Outland
(1981)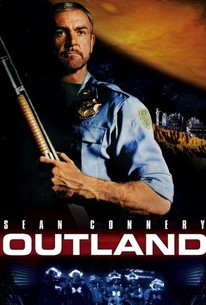 Movie Info
Considered by many to be High Noon in outer space, Outland stars Sean Connery as a 21st-century peacekeeper on the Jupiterian moon Io, a futuristic mining colony plagued by a narcotics ring. O'Neil (Connery) is given several opportunities to pack up and leave this violence-prone orb, but he's a man who's gotta do what he's gotta do. His devotion to his duty forces his wife to leave him, and soon his co-workers (read "deputies") follow suit. Thus, O'Neil is forced to face the villains -- who are in the employ of the corrupt mining company -- all alone. Just as High Noon reminded the audience that time was running out on marshal Gary Cooper, so too does Outland have cutaways to a digital clock counting down Connery's last moments of safety. The film was scripted by its director, Peter Hyams.
People Who Like this movie also like
News & Interviews for Outland
Critic Reviews for Outland
Audience Reviews for Outland
High Noon in space, with a look and feel that is clearly influenced of the massive success of Alien shortly before it. The film did not age as well, but still works as a slowly building thriller with a convincing leading man.
Update the classic High Noon, say, set it in space, cast uber-charismatic Sean Connery as the lead, and lose all that time wasting moral implication stuff = well, two out of three ain't bad. Who knew that all that moral stuff was actually the heart of the piece, and not the action??? And w/o those important considerations, the piece just ain't got the legs. It does have Sean Connery though.
Kevin M. Williams
Super Reviewer
I liked Connery in this, but the story isn't good, and the rest of the cast is forgettable. I don't recommend this movie.
Discussion Forum
Discuss Outland on our Movie forum!