13 Frightened Girls (The Candy Web)
(1963)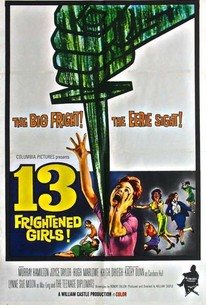 AUDIENCE SCORE
Critic Consensus: No consensus yet.
13 Frightened Girls (The Candy Web) Photos
Movie Info
A diplomat's daughter becomes involved in espionage. Kathy Dunn. Wally: Murray Hamilton. Hull: Hugh Marlowe. Soldier: Joyce Taylor. Kang: Khigh Dhiegh. Directed by William Castle.
Critic Reviews for 13 Frightened Girls (The Candy Web)
All Critics (3) | Fresh (0) | Rotten (3)
13 Frightened Girls! is like a Disney version of a spy picture, completely devoid of anything objectionable, aside from some outdated notions of gender roles.
It's so inane, goofy and lame in a Castle showmanship gimmicky way, that it's almost winsome despite being so frighteningly dreadful.
Audience Reviews for 13 Frightened Girls (The Candy Web)
Absurd blend of cotton candy teen movie and spy picture defies categorization but is silly enough to watch once in a bemused state.
Dreadfully dull....an exercise in bleh....a waste of good talent. I could go on. :) Seriously, 13 Frightened Girls is IMO one of Castle's worst films. I don't find it all that interesting to watch some spoiled rich girl play Nancy Drew for 90 minutes, but maybe that's just me. Apparently William Castle scoured the world to find beautiful young girls of different nationalities. I'm not sure why so much effort was put into this (maybe just personal pleasure) because these "13 Frightened Girls" mentioned in the title play no part in the story whatsoever. Hell, there are more girls than that running around in this moviebut we only identify with two of them. All that you as an audience member need concern yourself with is a pretty 16 year old girl who likes to spy on the Russians and the Chinese. That's about it. Dated by everything from clothing to music doesn't really help this movie either. If you want to see a far superior movie that is supposed to be about a bunch of young women being terrified that's meant to be fun, watch Hausu (House) instead.
Tim Salmons
Super Reviewer
½
It was good enough for a cute old movie. I only watched it because it was included with the 13 ghosts movie. It was terribly campy and predictable but that's the way things used to be I suppose.
13 Frightened Girls (The Candy Web) Quotes
There are no approved quotes yet for this movie.