13 game sayawng (13: Game of Death) (13 Beloved)
(2008)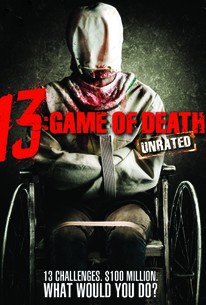 AUDIENCE SCORE
Critic Consensus: No consensus yet.
13 game sayawng (13: Game of Death) (13 Beloved) Photos
Movie Info
Thai/American pop singer Krissada Terrence stars in this cynical thriller adapted from the manga My Mania and detailing the harrowing journey of a luckless man who engages in a disturbing underground game in a desperate bid to get his life back on track. Chit is a guy with some serious problems: He's just been fired from his job, his car has been impounded, his debts are growing, and he can't seem to maintain a relationship to save his life. When Chit receives a mysterious phone call inviting him to participate in a bizarre underground game that promises to solve all of his financial woes should he take top prize, the prospect of earning some quick cash proves too tempting to resist. In order to win the game, Chit will have to complete thirteen tasks designed specifically to push him to the edge of sanity. While the tasks start out innocently enough, they rapidly progress into life or death territory - making Chit question his moral compass and highlighting how far some folks are willing to go to achieve wealth.
Critic Reviews for 13 game sayawng (13: Game of Death) (13 Beloved)
There are no critic reviews yet for 13 game sayawng (13: Game of Death) (13 Beloved). Keep checking Rotten Tomatoes for updates!
Audience Reviews for 13 game sayawng (13: Game of Death) (13 Beloved)
½
[img]http://images.rottentomatoes.com/images/user/icons/icon14.gif[/img]
Directors Cat
Super Reviewer
Asian horror films in many ways are much better than American horror films because they tend to push the limits of terror, and they introduce unique concepts to the genre that expands traditional elements, which make horror still relevant and fun. Directed by Chukiat Sakveerakul, 13: Game of Death tells the story of Chit who is heavily in debt and is fired from his job. He is contacted y an unknown caller who offers him the chance to gain some money by participating in a game where the contestant must complete 13 different challenges. Each challenge is worse than the previous one. The concept with this film is great; however I thought that the execution was kind of poor. The film tends to be hit and miss, and despite its original plot, I felt that the film had the potential of being so much more. I felt there was something missing to really make this film memorable, and despite its twist ending, it left a lot to be desired. The film is good and it's entertaining, and lots going for it, but like I said, things could have been done slightly better too. With a concept like this, you could see so many great ideas that could have been, but wasn't even brought to the screen. There could have been a bit more effort into the film, and I think it's a shame because the idea is really interesting, but the execution is average. Good film that has its fair share of flaws, 13: Game of Death is a must for horror fans, but expect to be slightly disappointed with a few aspects of this film. Even with its entire fault, there's a good film here to enjoy, but one that is not memorable or demands additional viewings.
A down-in-the-dumps Bangkok salesman gets a much needed financial lift courtesy of a twisted and mysterious game show which requires participants to complete a series of 13 challenges, each one completed awards cash, but the challenges are from easy or legal! Real good fun with doses of violence, stomach-turning moments and the odd laugh. Always entertaing and fast-paced enjoyment. Definitely one of the better films I've seen from Thailand.
13 game sayawng (13: Game of Death) (13 Beloved) Quotes
There are no approved quotes yet for this movie.