1776
(1972)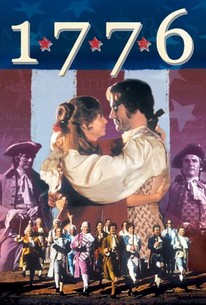 Movie Info
You'll be seeing stars and stripes as the most fascinating leaders in American history come to life in 1776, a musical about the birth of a nation! With the Boston Harbor still stained from over-taxed British tea, a revolution is brewing in the colonies! And now England has thousands of troops headed for America's shores to squelch her subjects' freedom-loving spirit!
Audience Reviews for 1776
This movie inspired me to love history. Sure it takes creative license with some facts. But it's a great film. Wonderful songs b
C Shurtleff
½
I think this story would be better fitted for a 2 hour drama, but the drama within this musical is still good and holds up the film nicely. I wasn't sure if I would be bothered by the fact that it is a musical, but honestly there wasn't as much music as I expected anyway, and I only thought one or two songs were unnecessary. In my opinion this film doesn't seem overly long even though it is a 2 hour 45 minute film. In fact, the best scenes in the film are the long, dramatic debates which the characters have with each other inside the Congress building. It keeps the film very enticing and questions ethics instead of just explaining how the Declaration came to be. The character of Benjamin Franklin is surprisingly very funny in this film. At one point, he even seems to make a phallic reference which I never thought would be part of the content for this film - but then again Shakespeare had hidden sexual jokes in his plays as well, and that was centuries before movies were made. One part of a scene that could have been omitted from the film in my opinion is when one of the colonies wants Jefferson's mention of slavery removed from the declaration. Since this movie was about America declaring their independence, this didn't seem to be a crucial part of the story, but this movie was highly about ethics so I suppose the filmmakers thought it was in the film's best interest to include this short debate. This is one of my new favorite "patriotic" movies, and I'll probably be watching it again around this time next year along with Yankee Doodle Dandy.
Rob Starzec
½
Mr. Feeny singing! I feel like such a nerd for enjoying this so much, combing music with with my love of history. William Daniels (Feeny) is very good, though it's oft-putting listening to him sing. I;m not huge on the actual music, I enjoyed it more for its non music elements, though it definitely goes on way too long.
Matt Heiser
1776 Quotes
| | |
| --- | --- |
| John Hancock: | I'm still from Massachusetts, John. You know where I stand. I'll do whatever you say. |
| John Adams: | No. No, you're the president of Congress. You're a fair man, Hancock. Stay that way. |
| | |
| --- | --- |
| Stephen Hopkins: | Ah, Ben! I want you to see some cards I'd gone and had printed up. Oughta save everybody here a lot of time and effort, considering the epidemic of bad disposition that's been going on around here lately. "Dear Sir, you are without any doubt, a rogue, a rascal, a villain, a thief, a scoundrel, and a mean, dirty, stinking, sniveling, sneaking, pimping, pocket-picking, thrice double-damned no-good son of a bitch." and you sign your name - what do you think? |
| Benjamin Franklin: | I'll take a dozen, right now. |
| | |
| --- | --- |
| Richard Henry Lee: | You've come to the one colony that can get job done: Virginia. The land that gave us our glorious commander in chief, George Washington, will now give the congress its proposal on independence. Where Virginia goes the south is bound to follow. And where the south goes, the middle colonies go! Gentlemen, a salute to Virginia, the mother of American independence! |
| | |
| --- | --- |
| Benjamin Franklin: | If we do not hang together, we shall most assuredly hang separately! |
Discussion Forum
Discuss 1776 on our Movie forum!