186 Dollars To Freedom
(2012)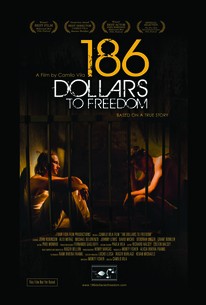 AUDIENCE SCORE
Critic Consensus: No consensus yet.
186 Dollars To Freedom Videos
186 Dollars To Freedom Photos
Movie Info
Based on the 1980 true story, 186 DOLLARS TO FREEDOM, follows a young American surfer in Peru wrongfully accused of cocaine trafficking and sent to prison. There he encounters a series of eccentric and dangerous characters that compel him to grow up in a hurry and find a way to escape.
Rating:
NR
Genre:
,
Directed By:
Written By:
In Theaters:
On DVD:
Runtime:
Studio:
Watch it now
Cast
Critic Reviews for 186 Dollars To Freedom
All Critics (2) | Top Critics (2) | Fresh (0) | Rotten (2)

Unable to shape these events into a dramatic structure, the director, Camilo Vila, resorts to a meandering tale of random indignities suffered by a lead so bland he comes across less as principled than as stupendously naïve.

New York Times
Top Critic
On every level this production-from Robinson's callow performance to Vila's hackneyed handheld camerawork, punching beats in the stead of the actors-remains firmly on the level of the obvious.
Audience Reviews for 186 Dollars To Freedom
The real title of this film is City Of Gardens and make sure you get the proper, subtitled, Peruvian original, and not a silly dubbed version. City Of Gardens is a Peruvian MIDNIGHT EXPRESS, minus the exceptionally hard edge of the 1978 Alan Parker movie. In GARDENS, a stupid American goes to Peru to surf, where predictably, he's essentially kidnapped. What actually happens is he's busted on phoney drug charges, and "lost" in Peru's hopeless penal system, pending a payoff from his "rich American father" that the local cops are just sure he must have (along with a swimming pool -all Americans are rich and have swimming pools.) Of course, this is the allegedly "pre-civil rights" Peru of 1980. We all know nothing like this could ever happen in a safe, modern, America-loving, enlightened nation like the modern-day Peru (snickers.) Anyway, stupid-surfer-boy refuses to give in -or maybe he really doesn't have a rich American father or a swimming pool back home. But either way, he's in a real hell-hole of a prison and has to deal with weirdos, each one a standard prison movie cliche: brutal guards, corrupt officials, an impotent US Consul, a crazy queer bunkmate, an inmate who thinks he's Jesus Christ, a pacifist flower-power Zen-Buddhist inmate, thugs, and various protestors, predators, and revolutionaries. Light on surprises and suspense, but rich in grim atmosphere, City Of Gardens is effective and well-made. It's worth a viewing, but it doesn't have a lot of point other than, KEEP THE HECK OUT OF COUNTRIES WHERE YOU HAVE NO BUSINESS BEING! It gives you that wonderful, THANK GOD THAT'S NOT ME!" and "No matter what my problems are, my life is wonderful BECAUSE I'M NOT ROTTING AND GETTING SODOMIZED IN A SOUTH AMERICAN PRISON !" feeling. Because that's a great feeling! Even though you'll want a hot shower after you watch this movie.
Amber Levi
Discussion Forum
Discuss 186 Dollars To Freedom on our Movie forum!
News & Features