1922
(2017)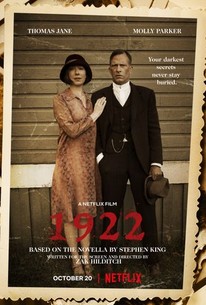 TOMATOMETER
AUDIENCE SCORE
Critic Consensus: Thanks to director Zak Hilditch's patient storytelling and strong work from lead Thomas Jane, 1922 ranks among the more satisfying Stephen King adaptations.
Movie Info
1922 is based on Stephen King's 131-page story telling of a man's confession of his wife's murder. The tale is told from from the perspective of Wilfred James, the story's unreliable narrator who admits to killing his wife, Arlette, with his son in Nebraska. But after he buries her body, he finds himself terrorized by rats and, as his life begins to unravel, becomes convinced his wife is haunting him.
News & Interviews for 1922
Audience Reviews for 1922
I often wonder how many things that I've done that I've forgotten about. I'm certain there's a lot of things I've forgotten that if I were to play my memories back, as if a film, I'd go 'oh yea, I remember I did that now'. The reason I bring this up in reference to this, an adaptation of a Stephen King novella, is because I wonder if King, an incredibly prolific writer, has ever forgotten anything he's written. And I wonder if he's ever surprised when someone wants to adapt one of his books/novellas/stories into a film and he's like 'oh yea, I remember that I wrote that'. This question is both a serious and joke observation at the same time. I'm certain the man has written stuff, prior to getting his first book (Carrie) published, that may have never seen the light of day that he doesn't remember putting pen to paper to. Regardless, as I mentioned in my It: Chapter One review, this (I believe) was the third good King film (if you believe the reviews) in a six-week span. The other, released in between this one and It, was Gerald's Game (which I also hear is good, but it's a movie I haven't seen yet). And, again, as I mentioned in the It review, I don't think there's even been a year like last year, where there were three good movies based on Stephen King books and/or novellas. So that's good for the man who, really, introduced a lot of people to horror with his books. Anyone who disagrees with the fact that King is a horror icon is just delusional. Regardless, let's go on with this movie, shall we? Thomas Jane is an interesting actor. The reason I say that might not be the reason you might think. Daniel Day-Lewis is an interesting actor in that his commitment to whatever character he's playing is a testament to his dedication and his willingness to give all of himself to the material. Thomas Jane differs in that I've never been able to decided if I think he's a good actor, a bad actor or something in between. I guess I'd have to say he's somewhere in between. But, and this is the thing, in a lot of cases, he's either one extreme or the other, he RARELY falls into the in-between category. Not that he hasn't fallen in that in-between category (check Before I Wake), but he's either good or he's bad. That's why it's impossible to get a read on him, because you never know what you're gonna get out of him. Though, to be fair to Jane, I think he's the type of actor that excels when he's given a role that he can really do something with. That's not to excuse his inconsistency as an actor, because a good actor is good all the time and not when it suits him. Plus, there's certain people that are so great that they're still good when they're phoning it in. Thomas Jane isn't one of those actors. Having said that, I think Jane gives one of, if not, his best performances in this movie and he's a large part of why I thought the movie ended up working. Not to say that he's completely irreplaceable, but Thomas Jane definitely did do a great job here as this conniving man who manipulates his teenage son into helping murder his mother and the consequences that he suffers as a result of his actions. And, ultimately, I feel like the movie is about those consequences. The decision made by Wilfred to kill his wife, in order to keep her from selling her land, moving to the city and taking her son (and livelihood), was made in order to secure his lifestyle as a farmer and his wife's 100 acres of land (and his own 80 acres, which he would have to sell if his wife goes through with her own sale, since his land is no good for farming without hers). Wilfred might have thought that his decision would be simple. He'd be rid of his wife and that'd be it, but her death sets off a series of escalating events that end up with, at least, two families (Wilfred and Harlan's families) and who knows how many others as a result of Wilfred and Harlan's son and daughter, respectively, becoming bank robbers. I like movies like this. It's not that they go into that many details of the consequences to anyone outside of Wilf's own family and Harlan's, but I do like how the movie portrays the events that took place could all be traced back to when Wilf decided to murder his wife. So, if Henry and Shannon (Henry's pregnant girlfriend), murder someone, directly or indirectly, Wilfred himself is responsible for that, for having manipulated and pushed his son to do something that, at fourteen years old, he should not have been accomplice to. Also, and this is also a result of Wilf's own actions, but he ends up losing everything he thought he would have kept when he killed his wife. He is, eventually, forced to sell the land for a pittance of what he would have made before, not to mention constantly being haunted by visions of his wife and rats. Having said that, I do think that the movie, in spite of how good it is, will test the patience of some people. Not all of what I mentioned happens immediately. The film definitely takes its time building up to that, since explores how every aspect of Wilf's life starts falling apart and, again, how he loses everything. I think one of the things the movie doesn't do, which, according to the novella's Wikipedia entry, the novella does is leave it open-ended as to whether the events that Wilf described were real or if the guilt of what he had done and what his son became had rendered him delusional. I suppose you're meant to make up your own mind about what happened, but I felt the movie should have played more with the fact that what you're seeing may not, in fact, be happening at all. That's a minor complaint, but I felt that the script was strong and the movie has a strong sense of time. It feels like it's set in 1922, whether it's from the costume design, the way Jane talks or the gothic atmosphere, the film definitely captures the tone that it needed to have to tell its story. As far as horror is concerned, honestly, I feel that, while there's certainly some horror touches, I feel that this is more suspense than straight-up horror. The film is framed as a horror and the score, which is tremendous, lends to that, but I felt that the movie was more about the suspense of what is going on to Wilf and the guilt he suffers, whether it is his own mind playing tricks on him or his wife (and later his son and his girlfriend) haunting him down to make him suffer a little bit first before, eventually, taking his life as their last act of revenge. So, yea, if you're looking for something that's full-on horror, this is the wrong movie to watch. It requires far more patience than most people expecting a full-on horror movie have. That's not to say the film is perfect and, as good as it is, I feel that it just that, good. And that's not to criticize this film, since making a good movie is already hard enough, but it's not the second coming of anything. It falls short on some aspects and I feel that that held it back as it relates to my rating. Though, don't misunderstand me, this still has some strong and compelling storytelling and a really good performance from Thomas Jane. That's enough to warrant a recommendation on my book, but it's not the best movie you will ever see. Still, I enjoyed myself watching this movie and, ultimately, that's what matters. Here's to hoping Gerald's Game concludes the 2017 Stephen King movie trilogy strongly.
Jesse Ortega
Super Reviewer
Thomas Jane's accent might be pretty hard to understand, and the story is just a just a plot you've already seen put through the Stephen King's Children of the Corn wringer, but that doesn't stop 1922 from being another Stephen King adaptation we can put in 2017's "Good" column, alongside It and Gerald's Game (and decidedly not alongside The Dark Tower).
A decent Stephen King adaptation that takes perhaps a bit too long to kick in, yet when it does it can be quite atmospheric and somber in the way it shows the gradual decadence of a tormented man who starts to succumb to the weight of guilt in rural Nebraska, 1922.
Carlos Magalhães
Super Reviewer
1922 Quotes
There are no approved quotes yet for this movie.