2012: Ice Age
(2011)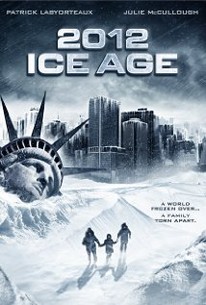 AUDIENCE SCORE
Critic Consensus: No consensus yet.
Movie Info
A volcanic eruption in Iceland threatens to plunge the entire globe into a new ice age, sending one desperate American family on a race to escape the coming freeze in this sweeping disaster film starring Patrick Labyorteaux and Julie McCullough. ~ Jason Buchanan, Rovi
Critic Reviews for 2012: Ice Age
There are no critic reviews yet for 2012: Ice Age. Keep checking Rotten Tomatoes for updates!
Audience Reviews for 2012: Ice Age
This movie is either one of the worst ever made or a sleeping college campus epic that is overflowing with Mock potential. The underlying premise is seriously ridiculous; a huge glacier calves off of Greenland and hurtles at an astounding "scientist approved" 200mph straight towards New York City. Soon the U.S. government has "declared war on the glacier", persistently blowing it up with everything from missiles to nukes. And yet, it just keeps coming. This is one mean spirited glacier that fights back with huge knives of ice that flattens entire towns in response to each military assault. Although this movie is flooding with tropes, it's the acting that really devastates the film. Not only are the main characters wildly unlikeable, whiny, and given dreadful dialogue, the actors clearly don't believe a word that they are saying. Then again, this might be because the wardrobe department wasn't informed that this movie was about people instantly freezing into popsicles (yes that trope is in there.) The director is in on the ineptness! The characters are frequently seen wandering through blizzard conditions with their jackets unzipped, the hoods of hoodies flopping against their backs, and a curious lack of hats or gloves. Did I mention that the main characters live in Maine? Maybe it's always balmy like the Amazon there? It's clear that even after hours of blizzard conditions the snow never piles up on the ground or on anything else for that matter. And I think this is where the movie really fails. It can't pull off simple tropes like a MacGuffin. It's as if the writers were simply unaware that cliches and tropes exist and instead they wander into the icy, tortured terrain of film making without making even simple preparations like grabbing a warm coat, gloves, and some food before evacuating towards warmer climes. Perhaps this movie is really a metaphor about the tragic fate of producers, directors, writers, and actors who fail to pay attention in class and in life. Despite all of this or because of it, the mock potential is through the roof. I advise lots of beer, pizza, and a few audience prompts to get the mocking and laughter going.
Zapp Oblappo
This was one of the absolute worst movies I have ever seen. Pathetic. Absolutely pathetic. Storyline: Some CGI glacier randomly broke off from the other glaciers and is now heading south towards New York. The main character's college-age daughter is in New York. Main character says to wife and son that he has to do the 'impossible:' save his daughter. They all pile in the car and drive. Woo. Main character is always sullen and serious. The wife is constantly like "we have to get to New York!" and the son always looks like is is going to cry. It is very annoying. Other than that, there is a constantly repeated CGI scene that is always shown: the car turning a bend on a hill passing the sign that says 'Welcome to Connecticut' even when the main character is entering Rhode Island instead. DO NOT RENT/BUY THIS MOVIE. At least get the animated Ice Age where there is a slightly entertaining squirrel to hold you over.
Julia Morell
Was a good movie.. Not as on the edge of the seat exciting as 2012 or The Day after Tomorrow , but but it was entertaining.
Marcie Frank
2012: Ice Age Quotes
There are no approved quotes yet for this movie.
Discussion Forum
Discuss 2012: Ice Age on our Movie forum!