20-seiki shônen: Dai 2 shô - Saigo no kibô (20th Century Boys: Chapter Two - The Last Hope)
(2009)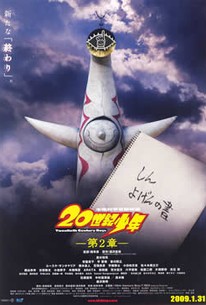 AUDIENCE SCORE
Critic Consensus: No consensus yet.
Movie Info
A successor to the Japanese sci-fi blockbuster Twentieth Century Boys (2008) this adaptation of Naoki Urasawa's manga begins where its predecessor left off. The initial installment concerned a group of friends who shared tight bonds as children, but grew into adults with a more tenuous connection to one another, all vaguely dissatisfied and bored with life -- particularly convenience store worker Kenji (Toshiaki Karasawa). As kids, they penned a book of dire prophecies, an imaginative work describing the need to save the world from an elusive cadre of villains; when the individuals grew up, the global disasters actually started to happen, and it seemed incredibly bizarre, bordering on inexplicable. A mysterious fellow named Friend turned up, claiming that a terrorist named Kenji was responsible for the cataclysms, but the friends all pondered Friend's real identity and his motivation for unveiling Kenji as the culprit. This time around, the year is 2015. Kenji has apparently died in a bomb explosion set by Friend in the first installment, and as a result, everyone around the world regards Friend as their savior. Unfortunately, Kenji's evil legacy lives on in the form of his niece, Kanna (Airi Taira), who continues the struggle against Friend, almost completely unaccompanied by Kenji's old allies. At about the same time, Otcho, who had been thrown into prison as one of Kenji's collaborators, breaks out of prison and treks off to find Kanna when he learns that she is about to fall prey to assassination. Then a new Book of Prophecy turns up as a sequel to the original, with the direst of predictions in it. ~ Nathan Southern, Rovi
Rating:
NR
Genre:
, , ,
Directed By:
Written By:
In Theaters:
On DVD:
Runtime:
Cast
Critic Reviews for 20-seiki shônen: Dai 2 shô - Saigo no kibô (20th Century Boys: Chapter Two - The Last Hope)
All Critics (1) | Fresh (1) | Rotten (0)
... so strange and entertaining and densely woven that I find myself hooked on the very elements so beyond logic they defy rational explanation

Audience Reviews for 20-seiki shônen: Dai 2 shô - Saigo no kibô (20th Century Boys: Chapter Two - The Last Hope)
The playing-God concept is grand which should be largely credited to the original manga creator Naoki Urasawa. Chapter 2 is basically all dragging transition between its prequel & sequel whereas not much being told. I particularly dislike its giddy tone from the beginning to the middle most.
WS Wu
½
This one, like the manga, is an unimportant part of the trilogy and does not really dvelop the characters to go on the third one to actually be heroes.
?? ?
½
20th Century Boys: Chapter 2 - The Last Hope is the follow up to Yukihiko Tsutsumi's 20th Century Boys: Beginning of the End.
While some sequels are able to stand alone from their predecessors, this sequel does not. Jumping into this film without having seen the first is a bad idea; therefore, watching the previous installment comes highly recommended.
This chapter needs some settling into, since the beginning wastes very little time at getting into the year 2015 and building up the Kanna character. Eventually, the story begins to take shape and things get more and more interesting as this 135 minute picture rolls along to the final minute, which is a swell setup for the next film.
The effects are pretty solid and there are a bunch of new characters to mix in with the old, which allows for a lot to happen in the story.
Airi Taira steps in as Kanna, the lead, and she gives a good performance. Eiko Koike has an entertaining character herself, while the old cast members reprise their roles successfully.
In closing, 20th Century Boys: Chapter 2 - The Last Hope has the story, characters, and acting to make it a worthy sequel. Fans of the first should enjoy this one.
Discussion Forum
Discuss 20-seiki shônen: Dai 2 shô - Saigo no kibô (20th Century Boys: Chapter Two - The Last Hope) on our Movie forum!
News & Features