21
(2000)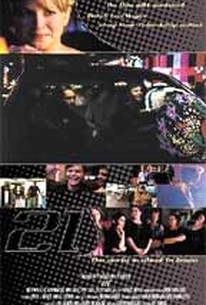 AUDIENCE SCORE
Critic Consensus: No consensus yet.
Movie Info
Justin Sellers, a twenty-two year old college senior attends the funeral of old friend Daniel Andrews, whom he hasn't seen since freshman year. He recognizes another old friend, Martin Cron, who remained best friends with the deceased classmate. Justin conspires with his roommate Sam Prescott and former friends Robert Warden and Jim Vogel to take Martin to Las Vegas the weekend before graduation to help him get over the pain. Tensions arise on the way to Las Vegas and, once there, Justin is unsuccessful in getting them to all go out that evening. Later, they manage to meet at a casino bar where it is revealed that Jim has dropped out of school after failing an acting class. Desperate to have some fun, Robert and Jim hitch a ride to a brothel outside Las Vegas. The excursion is a disaster, highlighted by a nightmarish encounter with an overeager prostitute. They are robbed of all possessions and hitchhike back to Las Vegas. Meanwhile, Justin, Sam and Martin go to a nightclub where Justin meets the girl of his dreams, Marci, while her friend, Amy, puts Sam in a compromising situation. Sam rejects her aggressive advances, and she stalks off, taking Marci with her. Justin ignores Martin's suggestion that he go after Marci. Robert and Jim return to the hotel where they reunite with their friends. Out by the pool, Robert is challenged by the others about his overconfidence and he reveals his deep insecurities. Touched by his honesty, the others open up, revealing aspects of themselves which they have kept hidden. With a new sense of optimism, all five head out to spend one last great night in Las Vegas together, but it is cut short by an argument between Robert and Jim, who walks off. The remaining four get a last drink in a bar when they notice a group of security guards running through the casino. In a nearby ballroom, they find a drunken Jim throwing chairs and cursing the nervous security guards. Not threatened by security's warning not to enter, the four guys walk into the ballroom. When Jim sees them, he begins passionately reciting Dylan Thomas' "Do Not Go Gentle into That Good Night." Finally, Jim has succeeded in doing what he ultimately loves. The four take Jim off the stage and lead him outside, where they scream and laugh in relief. The group readies the van for the ride home. Justin, however, hesitates for a moment, then bids farewell to his friends. They understand that he can't let Marci slip away. Justin heads toward Marci's hotel room. Outside her room, he struggles with what to say when she opens the door. As the screen fades to black, we hear the sound of knocking. -- © 2000 Ragnarok Productions
Critic Reviews for 21
All Critics (4) | Fresh (1) | Rotten (3) | DVD (1)


Audience Reviews for 21
½
21 could have been a fascinating movie on a fascinating subject. Instead, it turned into something not so fascinating and in the end was just a mess of rich Las Vegas junk. My first impression of 21 was one of mild interest. The subject was fascinating, I think, personally, and the movie featured a talented cast. So, what's not to like for first impressions? I soon realized that beauty is only skin deep. The movie is about Ben Campbell(Jim Sturgess), a smart student who plans on attending Harvard, but is financially in crisis of not being able to go. He could get the Robinson's Scholarship, which will pay for the whole ride--$300,000. But instead of working for it, Mickey(Jim Spacey), invites Ben to join a "secret" orginization of elite card counters. Now, if the plot seems ludicrous, wait till you get deeper. I have to say that I liked the first 20 minutes the most out of the entire movie. The part before Ben gets involved in the whole cynical card counting thing. One thing: The movie is confusing. Mickey keeps talking about card counting is legal, but everytime the group goes to do it, they need fake IDs, fake names, and disguises. And it's never really clear, why everyone is so intent on busting people for counting cards in the first place. Heck, we even see some guy punching another guy for counting cards! If it wasn't so comical, it'd be downright sad at the shape society has come to. In fact, this group is so elite, they've got numbers, codenames, and hand signals to disguise their illegal--oops, "legal"--card counting ways. The one thing that annoys me the most out of the entire movie is how snobby and rude everyone seems, including Ben. Besides Ben, no one else has a real reason why they're making this money. Jill(Kate Bosworth) is doing it because her father's dead? What? And Mickey's intentions are unclear, as well as the rest. Because they don't have clear reasons, it makes them seem like cynical, greedy bastards. And does Ben use the money to save for his college? Nope. He spends it on tuxedos and sunglasses. Very chic. This movie definitely wasn't a bad movie--but it wasn't good, either. It was sort of just eh, in there. Barely. Another annoying thing was Ben's voice-over. We don't need him telling us every second what he's thinking in his head. Anyhow, the movie is okay. It's decent. 5/10.
Kira Angelo
Juno - I like Ellen Page a lot, and the actors who play her parents are always fun, but I don't get why so many people liked this movie. Young and Restless in China - so interesting. eye-opening documentary. Me Myself and Irene - I'm a sucker for Jim Carrey, and he's funny enough. couldn't carry the movie though. Harold and Kumar Escape from Guantanomo Bay - almost as funny as the first one. worth it. 21 - pretty lame. always trying to blow up the ivy league mystique, and so uncovincingly. to think once upon a time i admired kevin spacey's acting. actors should never portray professors. they just dont' know what they're really like. (hint: most of them are like everybody else.) the one redeeming thing about the movie was the twist at the end.
da pain elaine
½
[url="http://www.rottentomatoes.com/vine/showthread.php?p=14441154#post14441154"]http://www.rottentomatoes.com/vine/showthread.php?p=14441154#post14441154[/url]
Bryce Duncan
21 Quotes
There are no approved quotes yet for this movie.
Discussion Forum
Discuss 21 on our Movie forum!