22 Bullets
(2013)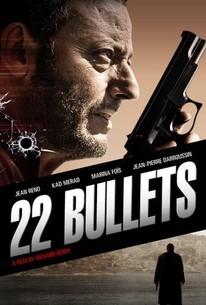 Movie Info
Retired gangster Charlie Matteï (Jean Reno) embarks on a violent quest for revenge after being pumped full of bullets by his former associates, and left for dead in this pulpy crime thriller from director Richard Berry. Few men could survive having 22 bullets tear through their flesh, but somehow Charlie has managed to get back on his feet. Upon discovering there is a price on his head Charlie sets out to learn who signed his death warrant as police work to track down his would-be-killers. When all clues lead Charlie back to his childhood friend Tony Zakia, he is forced to consider the prospect that he may have been betrayed by one of his closest allies. ~ Jason Buchanan, Rovi
News & Interviews for 22 Bullets
Critic Reviews for 22 Bullets
Audience Reviews for 22 Bullets
½
Sounds epic and stars Jean Reno, I was expecting a rip roaring 'Leon' type gun flick but alas. The film isn't bad by any means but its rather slow with a lot of dialog, and with subs that can be a slog. The action kicks off straight away as we see Reno's character having a good time with his son only to be ambushed by his car and gunned down in brutal fashion reminiscent of Murphy's execution in 'Robocop'. After seeing this I was thinking, OK...let the blood splattering revenge commence. That is what the film is based around naturally, Reno's character getting revenge for his attack and uncovering who and why, which of course leads to the odd double cross. The whole film is really well made, looks good and classy but its pretty boring in all honesty. There is the odd violent flare which gets you excited, Reno taking out the odd bad guy in revenge, but its few and far between. A more sensible thriller instead of the larger than life kick ass revenge flick I hoped for. The ending is also rather uneventful to say the least. I felt somewhat disappointed by the end but appreciate the quality acting on show from Reno and other French actors, I think the films poster and title does mislead you a little.
Phil Hubbs
Super Reviewer
The French seem to be quite good at making these crime thrillers. Jean Reno, an actor familiar to English-speaking audiences thanks to his appearance in films like Leon and Godzilla, stars as a retired gangster (based on a true character, apparently) who is gunned down in a car park and left for dead by former accomplices. His attackers' reasons seem a little strange: they're afraid he will disapprove of their decision to move into the drugs market. After pumping 22 bullets into his body they leave him for dead, but he's harder to kill than they expected (hence the original title: l'Imortelle) and recovers to start plotting his revenge. Reno is one of the few actors - French or otherwise - who could pull off this kind of role convincingly. He can play the tough guy well enough, but retains a humane side that sneaks through the armour every now and then. His adversary, a former childhood friend, is more of a typical bad guy, but is given a few personality quirks to at least give him some character. It's interesting, though, how the eight assassins whom Reno tracks one-by-one are all given a more human side than the usual screen villain. Many of them are performing acts of kindness when Reno catches up with them - laying flowers on their son's grave; walking their senile mother, etc. The plot asks the audience to suspend disbelief perhaps a little too often for its own good, and is perhaps a little more convoluted than it needs to be, but it moves at a cracking pace, and actor Richard Perry has a dynamic style of filming that wisely stops short of becoming too flashy. 5 Stars 2-10-14
Bruce Bruce
Super Reviewer
This is one hell of an awesome and exhilarating movie. A spectacular and adrenaline-charged edge of your seat action-packed thriller. A superbly well-made and performed action film. A masterpiece from Director, Richard Berry. It's memorizing, compelling and extremely powerful all the way to the end. An intense and hard-boiled crime-thriller. A stylish, thrilling, exciting and deeply moving film. A strong mixture of suspense, action and riveting character driven drama. This movies the real deal, the total package. It has memorable characters with depth, adrenalin-charged action sequences and heart-stopping car chases make for a solid guilty pleasure. It's your pulse and your heart racing through every twisting and turning moment. It's compelling and very endearing. This film can entertain. Jean Reno is at his very best, he hasn't been this good in a film for years. Reno is unforgettable with his strong and emotionally charged performance. This is his best performance and best film since The Professional. It's nice to see him and Producer, Luc Besson back in action together again doing what they do best.
22 Bullets Quotes
| | |
| --- | --- |
| Charlie Matteï: | "Friends until after death." |
| Charlie Matteï: | Friends until after death. |
| | |
| --- | --- |
| Marie Goldman: | Alright. I'll give it a try |
| Marie Goldman: | Alright. I'll give it a try. |