2 Turntables And A Microphone: The Life And Death Of Jam Master Jay
(2008)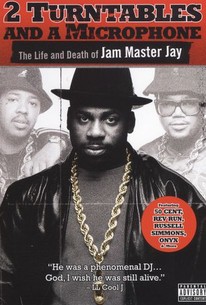 AUDIENCE SCORE
Critic Consensus: No consensus yet.
Movie Info
Stephan Watford and Guy Logan's documentary both traces the influential career of Run-DMC's DJ Jam Master Jay, and looks into the mysterious circumstances surrounding his unsolved murder at the hands of a gunman.
Rating:
NR
Genre:
,
Directed By:
Written By:
On DVD:
Runtime:
Critic Reviews for 2 Turntables And A Microphone: The Life And Death Of Jam Master Jay
There are no critic reviews yet for 2 Turntables And A Microphone: The Life And Death Of Jam Master Jay. Keep checking Rotten Tomatoes for updates!
Audience Reviews for 2 Turntables And A Microphone: The Life And Death Of Jam Master Jay
I'll admit that I knew next-to-nothing about Jam Master Jay before this documentary other than that he was a member of Run DMC and they are pioneers of hip-hop. I remember hearing about his death and not thinking much of it until this documentary. His cousin reminisces on Jay's childhood, his career and the suspicious circumstances of his death. The film stars off with happy nostalgia, laughs and anecdotes; famous musicians talking about how he influenced them directly or indirectly. Then middle of the doc focuses on the turmoil and drama going on behind the scenes between Jay's hangers-on and his friends and business associates. The third part of the film is hands-down the best part of the film: the suspicious circumstances of his murder. Was JMJ murdered by someone he knew? Was it a hit planned by one of his business partners? What did anyone have to gain from his death? Was his murder even about him, or was it about sending a message to 50 Cent? SO many interesting and thought-provoking theories and speculation. This is the part of the film that had me hooked all the way through to the end. I also loved the personal feel of the documentary. This wasn't a production from an outsider looking in. You were inside already because the producer was a member of Jay's inner circle, his family. f you're a fan of hip-hop (particularly old school) or if you just like conspiracy theories, I highly recommend this film.
Remi Logan
Super Reviewer
This movie seems like it is going to be one of those cheap band bios where they find people who worked at McDonalds with the subject for a week when they were 15. You find out very quickly that this not that at all. This is a great documentry that has folks that knew and cared for Jay explain his upbringing and his importance to the coming up of Run DMC (confirmrd by Run and his brother Russell Simmons). The last part of the movie is dedicated to oportunitty for Jays family and friends to express there outrage on what happened and events after the fact
Joe Sicari
½
Much like the case itself, the movie shares with you the baffling circumstances around the murder of Jam Master Jay and provides you with no closure. It's a tragedy that is only compounded with people's refusal to talk and cooperate. While the movie certainly focuses on the murder quite a bit, it also celebrates his life by talking to, what seems like, everyone he knew. Close friends, family and people he worked with paint the picture of a musical legend.
Josh Hakala
2 Turntables And A Microphone: The Life And Death Of Jam Master Jay Quotes
There are no approved quotes yet for this movie.