3 dev adam (3 Mighty Men)
(1972)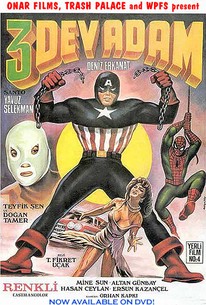 AUDIENCE SCORE
Critic Consensus: No consensus yet.
Movie Info
Istanbul is being terrorized by a crime wave, and the police call in American superhero Captain America and Mexican wrestler Santo to put a stop to it.
Rating:
R
Genre:
,
Directed By:
Written By:
Runtime:
Critic Reviews for 3 dev adam (3 Mighty Men)
There are no critic reviews yet for 3 dev adam (3 Mighty Men). Keep checking Rotten Tomatoes for updates!
Audience Reviews for 3 dev adam (3 Mighty Men)
½
Captain America and Santo take on evil antiques dealer Spiderman---in Istanbul! This Turkish oddity has few moments of high absurdity beyond the ridiculous premise, but it is packed with action; take off the costumes and you'd think you're watching a cheap Turkish Shaw Brothers ripoff instead of a cheap Turkish comic book ripoff. The 1.5 star rating is geared towards normal moviegoers, bad movie fans may want to double the score.
½
This movie is better known as the Turkish Spider-Man or Three Mighty Men. It's a ridiculous tale about an evil Spider-Man and his struggles against Captain America and his pal Santo the wannabe wrestler. This movie can only come from Turkey. The unbelievably bad editing, stolen plot ideas, and hilarious fight sequences are completely on par with other rare Turkish gems. Honestly, watching this movie is a good time. The story loosely dances around a plot involving gobs of counterfeit American dollars. Mainly the story is about the amusing ways Spidey can quickly end the lives of his enemies. Some of which are quite graphic and one even involves a guinea pig death tunnel. Yes, you read that correctly, a guinea pig death tunnel. My favorite quotes. "Let the millions flow" "Pack the dollars. We're going to send them tonight." Here are some of my favorite things about this movie. 1. Spider-Man's hair is so long that it pokes out through the eye holes of his mask. 2. Spider-Man wears a belt buckle! 3. There are more throws than the entire run of the WWF. 4. There is a part of the movie where the original master cuts out and it sounds like the movie is trying to beat box. 5. Spider-Man laughs like a crazy person who finds demented glee in eating the last Chips Ahoy. 6. More than 3 people get picked up during fights and set on top of tables before they're attacked. I've never seen that tactic before. 7. Every major fight scene in the movie has what I refer to as "arcade mode" where someone picks up an enemy body and uses it as a weapon. 8. I think they went through 107 Spider-Mans while shooting this movie. 9. The soundtrack has very determined, yet asynchronous, footstep sound effects. 10. I have never seen so many people jump in front of the camera during a fight before. 11. I didn't know they made tea sandwiches. Definitely see this one. But remember to keep an eye out for Spidey's switch blade.
Kurt Astbury
I promise you, this is the only movie where you will see Spider-Man murder a woman in the shower. It's difficult to track down a good copy of this movie, but it's sooo worth it.
Shawn Wolfe
Discussion Forum
Discuss 3 dev adam (3 Mighty Men) on our Movie forum!
News & Features