36 Fillette
(1987)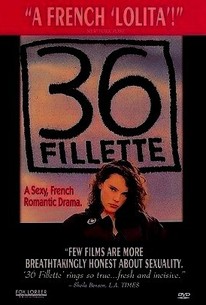 Movie Info
Titled after the name of a little girl's dress size, the coming-of-age drama 36 Fillette follows a couple days in the life of 14-year-old Lili (Delphine Zentout), whose physically mature features contrast with her immature adolescent angst. Away from her home in Paris, she is painfully bored during a summer vacation in a windy little campground near the resort town of Biarritz. She's stuck with her emotionally unavailable parents (Adrienne Bonnet and Jean-Francois Stevenin) and older brother J.P. (Stephane Moquet). After some blatant begging on her part, J.P. eventually agrees to take her out to a disco. They don't have a car, so they hitch a ride from the middle-aged Maurice (Etienne Chicot), who is out cruising in his sports car. Maurice and J.P. go to a disco, but Lili is too young to get in. She spends the evening at a café talking to the celebrity musician Boris Golovine (Jean-Pierre Leaud), but she agrees to meet Maurice for a date at midnight. After much pleading with the doorman, Lili is allowed in to the disco where she dances with Maurice. Eventually, she leaves the club with him and spends the evening in his fancy hotel room. 36 Fillette was written and directed by Catherine Brelliat, who adapted the screenplay from her own semi-autobiographical novel. ~ Andrea LeVasseur, Rovi
Critic Reviews for 36 Fillette
All Critics (7) | Top Critics (1) | Fresh (6) | Rotten (1)
The Jan Brady of the filmmaker's trilogy of puberty-agonizing explorers
By not making judgments on the characters it endows the audience with the greatest understanding of the situation.

Audience Reviews for 36 Fillette
½
Humbert Humbert: Our Hero? The dvd jacket to 36 FILLETTE bills it as "the French Lolita," and while I've never seen Lolita, the only positive thing that I can say about this film is that it's cool to see a female coming of age story, since it's a male dominated story-type. That's where my praise ends, though. 36 FILLETTE is essentially about a girl on a crash course with future emotional problems. She has some psychological complex about sex where she is both fascinated and repulsed by it. The filmmaker seems to think that the best way to show this is to make everything an ambiguous teeter-totter: when an older playboy that she "picks up" (though who picked up to is up for debate) talks about sex, she bristles, but whenever she talks about sex, he bristles. It's just absurd. More absurd is the fact that she is 14. Blah, it's all just a pretty rotten set up and, while I suppose it maybe might possible be read by some small number of people as being about female sexual freedom, it strikes me as exploitative, aimless, and boring.
Zane Umsted
½
A coming of age tale about a French Lolita. It's a difficult subject matter but never exploitive. It's only a short film but it is incredibly slow at times with lots of walking and sitting around waiting which can drag on at times.
I agree with the most recent review put forward by Cynthia M...whoever the heck that is. I like Breillat films because I find them so disturbing on so many levels. There is nothing quite like a decent film that remains in your mind for years afterwards.
John Ballantine
Super Reviewer
36 Fillette Quotes
There are no approved quotes yet for this movie.
Discussion Forum
Discuss 36 Fillette on our Movie forum!