388 Arletta Avenue
(2012)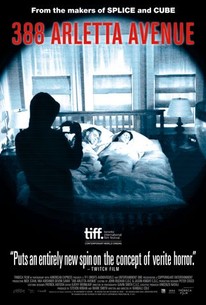 388 Arletta Avenue Videos
388 Arletta Avenue Photos
Movie Info
In this fresh, subversive take on the found-footage horror genre from the makers of SPLICE and CUBE, a faceless voyeur's twisted manipulation of a young couple escalates into a deadly cat-and-mouse game, as seen from the perspective of hidden cameras he's concealed throughout their house.
Critic Reviews for 388 Arletta Avenue
Audience Reviews for 388 Arletta Avenue
Good concept for a movie just way to predictable for an ending. This film could have been a lot better.
Shawn Riggins
½
realistic, yet pretty dull and boring at times, the whole computer thing got a little to repetitive to me. didn't really enjoy it, but the acting was pretty decent.
Paul Atkinson
A stylish and well-made found footage serial killer film, 388 Arletta Avenue mixes Michael Haneke's masterful film Cache together with the older found footage stalker film Alone With Her. Despite being well made, 388 Arletta Avenue never achieves the heights of either film. Engaging throughout, it never manages to be creepy and just ultimately fizzles out.
Al Miller
388 Arletta Avenue Quotes
There are no approved quotes yet for this movie.
Discussion Forum
Discuss 388 Arletta Avenue on our Movie forum!