3-4x juugatsu (Boiling Point)
(1990)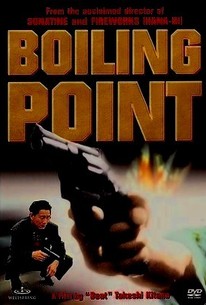 3-4x juugatsu (Boiling Point) Videos
Movie Info
Japanese filmmaker Takeshi Kitano directs, writes, and acts in this gangster comedy about the Yakuza, the notorious criminal organization of Japan. Masahiko Ono portrays the hapless Masaki, a local baseball player and gas-station attendant who runs afoul of some local gangsters. Masaki goes to Okinawa to buy a gun so he can stand up for himself. In Okinawa, he meets Uehara (Kitano), a tough, hardened gangster who is in serious debt to the mob. Along with some friends, they go to Tokyo to confront the Yakuza. As in many of his acting roles, Kitano is credited in the cast as Beat Takeshi. ~ Jonathan E. Laxamana, Rovi
Critic Reviews for 3-4x juugatsu (Boiling Point)
Audience Reviews for 3-4x juugatsu (Boiling Point)
Takeshi Kitano's second feature is nearly as powerful as his first. 'Boiling point' (3-4 x Juugastu) tells the story of isolated teenage protagonist Masaki as he travels to Okinawa in order to purchase a gun to kill the local Yakuza. Upon his arrival Masaki finds himself in the company of Uehara (Played perfected by Kitano) a sociopathic mobster who manipulates, assaults and sodomises unrepentantly. Tonally 'Boiling Point' is similar to Kitano's début feature 'Violent Cop'; characters remain largely expressionless and outbursts of violence are intertwined throughout the story in a nihilistic fashion giving the film an overall existential feeling (much like 'VC'). Another similarity between the films is the likeness drawn between characters; Masaki's actions often feel similar to Uehara's and ultimately the two feel as if they are in search of the same thing. 'Boiling Point' is engaging and intriguing, Kitano's ability to convey a perpetual state of emptiness in an interesting fashion is unmatched and the splashes of dark humour add to the dreamlike nature of the film in a positive way. Despite all the positives the film's climax lacks the same potency as 'Violent Cop's and is therefore hard to recommend above it.
Cameron Sherwell
Super Reviewer
There are some very funny moments throughout this perverse film. The difference between this and films like Sonatine and Hana-bi would be that it plays out more aimlessly and pointlessly than those more mature and focused existential yakuza flicks. It is raw but still a worthwhile film and touches on many themes and interests that Kitano further explores in his later films.
A slow witted garage attendant travels to Okinawa to buy a gun when his friend gets into trouble with the local Yakuza. Even by Kateshi Kitano's understated standards, Boiling Point is a very ponderous affair. It has all the usual elements; the stoic but beautiful direction, the wide streak of very black humour and collection of oddball characters set within the world of violent men but to be honest, it only really gets going once Kitano himself appears on the screen. His obnoxious, sexually ambiguous psychotic gangster is easily the best thing about the film and it's a real shame he isn't in it more. The other actors all acquit themselves quite well, and it shows this collection of men used to getting their own way through violence are little more than a bunch of emotionally retarded, spoilt children with guns but in the end, when Takeshi isn't on the screen it feels like screen time wasted. Not his best, but it's still an amusing look into the life of a Japanese gangster but I'd begin somewhere else if you're looking for a starting point into Beat Takeshi's work.
3-4x juugatsu (Boiling Point) Quotes
There are no approved quotes yet for this movie.