3 Blind Mice
(2003)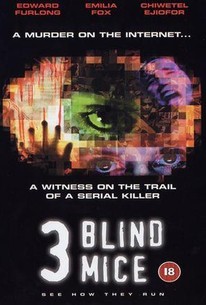 AUDIENCE SCORE
Critic Consensus: No consensus yet.
Movie Info
Thomas (Edward Furlong) is a young computer specialist who spends most of his (spare ?) time on the net. He logs regularly on Cathy's site and apparently runs a very strong - but platonic! - relationship with her: they only see each other through webcams. One day, while Thomas is connected, Cathy is murdered under his eyes. But when he calls the police to try to "do something" he realizes that he doesn't even now her "real" name or adress.... Apparently the only witness, Thomas will soon find himself involved in the investigation held by Claire (Emilia Fox) a young police officer also web specialist. Together they will discover in the real world as well as in the virtual one, very weird things....
Rating:
R
Genre:
,
Directed By:
Written By:
In Theaters:
On DVD:
Runtime:
Critic Reviews for 3 Blind Mice
There are no critic reviews yet for 3 Blind Mice. Keep checking Rotten Tomatoes for updates!
Audience Reviews for 3 Blind Mice
It would take the best efforts of the Mystery Science Theater 3000 team to make this movie even mildly interesting. The number of obvious flaws in this movie is staggering. The sound is abysmal. Too many times it's impossible to hear clearly what the actors are actually saying. The lighting is too dark. If you're going to pay Emilia Fox to do a nude scene, the audience needs to be able to see her nude. On that count, the movie wasted both a lot of money and a beautiful actress. It's not even clear that the movie got the tech right, and that's its ostensible subject. The movie's villains are far too shallow and underdeveloped to be truly menacing. What insight the movie offers (that law enforcement, specifically, and government, generally, are both pawns of powerful monied interests) is somewhat trite, if also somewhat true, but this theme is completely underdeveloped in the film. It's whipped out like a one-liner in a fight scene at the very end of the movie, and then it's dropped off like the kids at day care. While this critic has the utmost respect for Emilia Fox's acting skills, her performance is not enough to save this film. She does very well with what she was given--showing a wide range of emotions and an even wider vocabulary than we normally get from her, but there is only so much she can do. One gets the sense that the studio gave up on this film before they completed editing it. It needed a re-shoot, but instead got the boot. What we got is a rather poor movie.
Alan Taylor
½
This movie was pretty disappointing, It had it's high points, but then it also had it's low ones. Definitely a below-average mystery movie. I found it mostly hilarious at times because of it's plotline. Not sure what the hell they were thinking on this one, but I guess it was at least a tad interesting, maybe entertaining at times, but others pretty boring.
Amanda Ø.
½
It starts out very promising but it peters out after about thirty minutes. It gets slow moving and you begin to lose interest. It loses focus and doesn?t make the most of a good story. There are also a few improbable scenarios.
James Higgins
3 Blind Mice Quotes
There are no approved quotes yet for this movie.
Discussion Forum
Discuss 3 Blind Mice on our Movie forum!