3 Ninjas
(1992)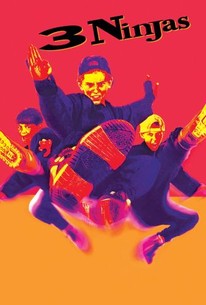 Movie Info
Three young brothers trained in the martial arts find themselves pitted against a group of underworld villains when they are kidnapped. The boys use their ninja training to break free and defeat the evil criminals in this family adventure.
Critic Reviews for 3 Ninjas
Audience Reviews for 3 Ninjas
This is one of those films that the studio put together and really didn't care how the result would turn out on-screen. This has got to be one of the worst family films I've seen in my life. This film doesn't have the nostalgia elements of so many other films. This film fails due to a poorly written script, a very bad cast, and poor directing. The film isn't worth watching, and if you're looking for a memorable and fun entertaining family film, you won't find it here. This is just poor entertainment that doesn't stand out. As far as family films are concerned, there are far better films out there than this one. 3 Ninjas scraps the bottom of the barrel of bad ideas and really isn't anything good. In fact it's awful. This was horrible and it's just not interesting or fun. I've always seen it as a Karate Kid wannabe, but it definitely fails. This is some of the worst filmmaking I've ever seen, and everyone here just makes it worst. 3 Ninjas sucks and is a stupid, pointless uninteresting film that has absolutely nothing going for it. This is just a shame that it was made and it's a poorly done film with no good story. Avoid this film, and watch something better. This is bad and is definitely not worth watching. This film suffers from a lack of original ideas, and you really see that on-screen. A truly awful film, 3 Ninjas is one of the worst family films ever made.
Grew up on this movie as well. It will always be a classic to me.
Eric Alvarez
Super Reviewer
My brother made me watch this when he was a kid, it sort of tried to cash in on the whole ninja craze, and it's a cute kids movie for the most part. I didn't think it was that good, but it's not bad either, it's just okay.