.45
(2006)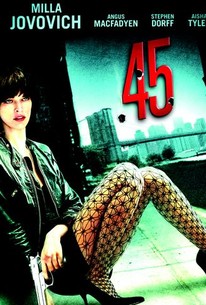 AUDIENCE SCORE
Critic Consensus: No consensus yet.
Movie Info
The girlfriend of a ruthless drug dealer attempts to strike out on her own, only to find that it isn't easy to shake the grip of the most dangerous man in the city. Kat (Milla Jovovich) is a beautiful bad girl whose hunger for danger has led her down a dark path in life. Despite having her every move dictated by her dope-slinging boyfriend, Big Al (Angus MacFadyen), Kat longs take her fate in her own hands. Now, as Kat begins to make her own deals on the street, Big Al's right-hand man (Stephen Dorff) professes that his feelings for the increasingly independent moll run much deeper than she ever suspected. As tensions flair and jealousy seethes, Kat and her newfound sidekick make a plan to take down Big Al -- and do whatever it takes to claim his valuable territory.
Critic Reviews for .45
All Critics (1) | Fresh (0) | Rotten (1) | DVD (2)
Sometimes stupid, sometimes absurd, and many times just over the top, ".45" will test your patience and grind your nerves...
July 10, 2007 | Rating: 1.5/5
Audience Reviews for .45
½
Its hardly an elaborate plan, this simply a basic plot involving Milla setting up her violent boyfriend in a murder so she can escape his brutal beatings and her old lifestyle. Its OK, the cast is good but the story is very basic and nothing new. I love Milla, she's very cute and very sexy, that's the best bit haha the rest is run of the mill. Macfadyen is quite good but alittle hammy as the violent 'Big Al', but nothing really exciting happens here, very average.
Phil Hubbs
Super Reviewer
½
Well, that was a waste of 101 minutes. I never would have known that .45 existed, if not for the presence of Milla Jovovich. That ignorance of this movie, probably would have been to my overall advantage. It's safe to say that I am not a fan. .45 is basically an R-rated Lifetime Movie of the Week. The story is a messy mix of domestic violence, crime, revenge, double-crosses, and general pointlessness. I was massively disinterested within the first ten minutes, but I forced myself to watch all of it, because of my misguided aversion to not finishing a movie (unless I absolutely must, ex. Darkness). No one came out of this one looking good, even the pretty Ms. Jovovich. I'm struggling to think of a single redeeming quality...nope. I'm drawing a blank. Even if you're a die-hard fan of Milla, I still could not recommend this. She does have talent, but none of it is on display, here. It's been a few months since I've seen a movie that I enjoyed this little.
Nobody does revenge like a woman.
.45 Quotes
There are no approved quotes yet for this movie.