47 Ronin
(1994)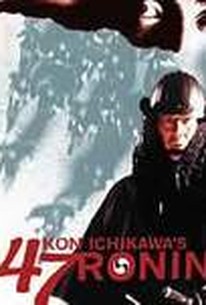 AUDIENCE SCORE
Critic Consensus: No consensus yet.
Movie Info
In honor of the 100th anniversary of the invention of film, Toho studios produced this remake of Chushingura, a paean of feudal devotion and one of the most retold tales in all of Japanese cinema. Legendary filmmaker Kon Ichikawa reworks this old chestnut by trying find a psychological truth in the characters and the historical truth of the time period. Set in the spring of 1704, Kuranosuke Oishi (Ken Takakura) is the retainer of lord Naganori Asano. While in far-off Edo (pre-modern Tokyo), Asano drew his sword against Lord Kira. Contrary to usual practice, Asano was beheaded for his indiscretion while Kira -- who is well connected with the powerful Uesugi clan and the Shogun himself -- is spared. Sensing that justice has not been served, Oishi starts to organize the other retainers and plot revenge -- even though such an act means certain death for all involved. The chief retainer for Uesugi named Matashiro Irobe (Kiichi Nakai) tries to buy off as many of Asano's former samurais as possible. ~ Jonathan Crow, Rovi
Critic Reviews for 47 Ronin
There are no critic reviews yet for 47 Ronin. Keep checking Rotten Tomatoes for updates!
Audience Reviews for 47 Ronin
½
to begin with, this film is certainly not without its flaws. the first 25 minutes of the film are told in a non linear fashion that is more confusing and jumbled than it is creative. the film also throws in a love story for the lead character and a young girl that is completely without purpose and feels forced. and finally, the end of the film is so abrupt that it literally leaves you hanging with many unanswered questions. normally this would be too much flaw in a film to overcome. having said all of that, since this film was based on a true and epic event in japanese history and because im well versed on the historical events that took place, i was not only able to follow the film through the rough start and incomplete finish but i was so enthralled with every part of the film other than the three flaws that i just mentioned that i completely enjoyed this movie. ichikawa's choice of set design, natural settings, camera work, and direction of his actors were all as flawless as i would expect from an ichikawa film, and the parts of the story told well were told especially well. if you dont know the real story behind the film it might be hard to follow, but if you do you might love this film as much as i did.
47 Ronin Quotes
There are no approved quotes yet for this movie.
Discussion Forum
Discuss 47 Ronin on our Movie forum!