51 Birch Street
(2006)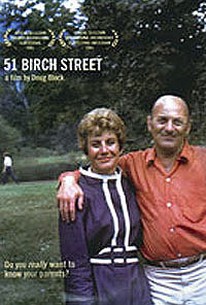 Movie Info
Documentary filmmaker Doug Block had every reason to believe his parents' 54-year marriage was a good one. But when his mother dies unexpectedly and his father swiftly marries his former secretary, he discovers two parents who are far more complex and troubled than he ever imagined.
News & Interviews for 51 Birch Street
Critic Reviews for 51 Birch Street
Audience Reviews for 51 Birch Street
I pulled a DVD off the shelf and sat down to a documentary that moved me emotionally, to such a point that I am haunted by it. 51 Birch Street came out in 2005. It is a film by Doug Block whose intent was to document his family's life and in doing so unearthed his parent's deepest secrets. Our question to ourselves is: how much is too much information? 51 Birch Street rubs our noses into our own lives by giving us a family to observe and identify with. We all can. Doug does documentaries and does them well. He also photographs weddings and knows which ones will last and which ones will dissolve within the year. The movie begins with his parents Mike and Mina in the back yard celebration of their 50th anniversary. At that moment they make marriage look so easy, so "the way it should be." In interviews, Mina is usually the outspoken one, and Mike sits by passively, but appears to agree with all Mina offers. She loves him. She says so. In her own way. They married in the early 1950's and lived on Long Island, New York in the town of Port Washington, a town I know well. It was a typical 3-kid-house-suburban life. Mother home. Dad works. The post war American dream. Mike Block is described by one of the daughters as a typical 1950s father who never shared his feelings. None of the children feels close to him or remembers having any together-time with him. Mina is the center of the universe, and when she becomes ill suddenly and dies the universe implodes, then explodes, when her volumes of journals are found. Her friend becomes an integral key to information and speaks for Mina, who has left cartons of loose leafs, thousands of handwritten pages, boxes of typewritten elucidations of her life. Was this a legacy or a curse? Mina's friend feels Mina would have wanted her children to read the journals. The children decide that they have an obligation to read her diaries and learn that their mother was in pain for many years. References to entries are made visible to the viewer by highlighting varies typed words, as if in a cryptic puzzle or "search-a word." "Extramarital." "Outside the marriage." "I am begging for your love." She was in love with her therapist "Ben," and wanted to have an affair with him. He wouldn't; she had one with someone else. She was a lonely dissatisfied woman. She was an adventurous, passionate, open-minded (pass the joint, kids) woman. But the kids don't remember feeling particularly attached to her; she was distant. She was disconnected. She was miserable. The universal reaction is, how much do I want or need to know? Viewing a family in its vulnerable state is like watching a car accident. We are shocked but can't turn away. We are glad it didn't happen to us. But unlike a car accident, we can't just drive off. We all know this vulnerability in our deepest place. We've been there in some way either through our family or our own marriage or relationships. A mere three months after Mina's death, Mike, age 83, marries his former secretary. The children are shocked, and new questions arise that pop out of Mina's journals. Was Mike having an affair with Carol years ago? Their first kiss at the wedding was about "12 seconds long." So the mystery unravels as Doug's camera rolls. What I also found to be interesting was Doug and his wife's view of their own marriage and connect with the universal premise: that no union is ever perfect. Happiness is on a day-by day basis. I was intrigued also as Doug and his wife live where I grew up in a housing development on the Lower East Side of Manhattan, Stuyvesant Town, that pulled me in emotionally even more. The use of a movie camera helped Doug to connect with his father, who opens up and is confronted by questions. No, he never cheated and yes, he was very unhappy for many years. When Doug asks his father after his mother's passing, "do you miss her?" and his father says he didn't, my heart broke for all of them. But in the end, it is Mike who is the one who opens up like a character in a novel. We see real growth; the camera has enabled him to communicate. He reconnects with a woman with whom he has a basic warmth, a genuine bond. He can now smile and have a life. The camera is a hero. And so is the ability to communicate. 5i Birch Street has been acclaimed from here to Toronto. No one in the family expected this. The daughters were uneasy about the revelations and how their lives were an open book for the world to read. But where ever there was an opening there was applause. This seemingly simple documentary had connected us all with the thread of the human condition. You can view the trailer here. http://www.imdb.com/video/screenplay/vi900989209/
Sans Souci
½
Amazingly personal documentary about the parents of director Doug Block and their 54 year marriage, which comes to an end when his mother passes. Almost immediately his father begins a new life and Block realizes he doesn't exactly know his parents, and thus begins an odyssey to find out just who they are. It's touching and deeply felt.
Manny Casillas
Interesting because it's so personal. The director obviously wanted to make a documentary about his family but found out more than he was ready for.
Sunil Jawahir
Super Reviewer
51 Birch Street Quotes
There are no approved quotes yet for this movie.
Discussion Forum
Discuss 51 Birch Street on our Movie forum!