5 Broken Cameras
(2012)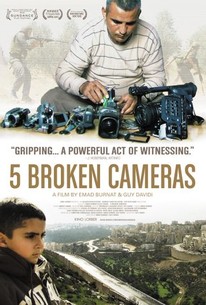 Movie Info
An extraordinary work of both cinematic and political activism, 5 Broken Cameras is a deeply personal, first-hand account of non-violent resistance in Bil'in, a West Bank village threatened by encroaching Israeli settlements. Shot almost entirely by Palestinian farmer Emad Burnat, who bought his first camera in 2005 to record the birth of his youngest son, the footage was later given to Israeli co-director Guy Davidi to edit. Structured around the violent destruction of each one of Burnat's cameras, the filmmakers' collaboration follows one family's evolution over five years of village turmoil. Burnat watches from behind the lens as olive trees are bulldozed, protests intensify, and lives are lost. "I feel like the camera protects me," he says, "but it's an illusion." -- (C) Kino Lorber
News & Interviews for 5 Broken Cameras
Critic Reviews for 5 Broken Cameras
Audience Reviews for 5 Broken Cameras
A Palestinian peasant teamed up with an Israeli director to deliver this remarkable and moving work of historical importance that exposes the outrageous situation of abusive oppression by invading Israeli forces in the West Bank village of Bil'in.
Carlos Magalhães
Super Reviewer
In the heartbreaking and deeply moving documentary, "5 Broken Cameras," Emad Burnat, like any proud father, uses a video camera to record every single waking moment of his fourth son Gilbreel in order to embarrass him later when he is an adult. As the owner of one of the only ones in his village, he is also the unofficial chronicler of events such as the circus. And since this is the occupied West Bank we are talking about, that extends to the building of the security wall which threatens to divide the village lands to make way for illegal Israeli settlements. The villagers respond with protests that are mostly peaceful and a little ingenious in places, and are joined by Israeli and other international activists. Even though it is a little repetitive(perhaps by design), especially on Emad reminding us about the importance of the land, as he and other villagers depend on harvesting olives for their livelihood, "5 Broken Cameras" also shows in harrowing detail what it is like to live in the occupied territories, as Emad captures some stunning footage while putting himself and his cameras at risk, hence the title, not only for injury, but also jail time. In fact, one of his cameras ends up taking a bullet for him, but that is not what sends him to the hospital(an Israeli one) for an extended stay.
½
Much of the footage strongly begs for historical and legal context that is never given, weakening the credibility of the film's narrative. But there is no denying the striking, unjust scenes of Israeli violence against unarmed protestors.
Matthew Slaven
Super Reviewer
5 Broken Cameras Quotes
There are no approved quotes yet for this movie.