Five Days to Midnight
(2004)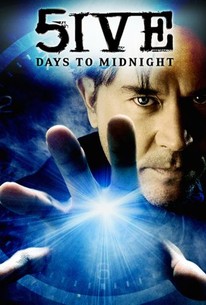 AUDIENCE SCORE
Critic Consensus: No consensus yet.
Five Days to Midnight Photos
Movie Info
In the tradition of such elliptical thrillers as The Dead Zone and Memento, prolific television director Michael Watkins' tense tale of murder and intrigue is certain to have viewers firmly planted on the edge of their seats. Physics professor J.T. Neumeyer (Timothy Hutton) is well-renowned for his extensive knowledge and exceptional teaching skills. When J.T. receives a police file detailing his own murder, he notes that the report is dated five days into the future -- triggering a frantic race against the clock to solve the time-bending mystery and escape death's ever-tightening grip. If he had any doubts of the report's validity, any questions are soon put to rest when events in his life begin to mirror those of the ominous report.
Rating:
NR
Genre:
, , , ,
Directed By:
Written By:
In Theaters:
On DVD:
Runtime:
Studio:
David Kirschner Productions
Audience Reviews for Five Days to Midnight
½
Professor J.T. Neumeyer (Timothy Hutton) and his daughter have never fully recovered from the loss of their wife/mother, but try to live a simple life of solitude in suburban Seattle. After 10 years, J.T. is finally seeing a women, who he really likes, and things seem to be going good for the family, until a mysterious briefcase shows up. J.T. opens the case only to find an old police report, dated five days in the future. The file is an unsolved murder case in which the victim is Professor J.T. Neumeyer. 5ive Days To Midnight was a very unique and entertaining story, but for some reason, it was given to the SyFy channel and turned into a four part mini-series, rather than a movie. It's problematic, because to fill the extra time, they have to come up with a lot of side stories that never fully resolve themselves. Sometimes with Science Fiction, things are never resolved, because they simply can't be explained and I'm okay with that, but simple things that can be resolved should be, otherwise the story leaves more questions than it answers. That is the case with 5ive Days To Midnight, it's really well written and has an outstanding cast, but being that it's four hours long, there wasn't any reason to leave parts of the story unfinished. The conclusion was therefore the best and worst part of the whole thing. The ending was fast paced and exciting, real edge of your seat type stuff, but as soon as it was over, there was a small two minute conversation, and then that was it. With all the time the writers spent on the back story and the introduction to the characters, to just leave us with a story that basically just abruptly ends, was defiantly disappointing to me. What doesn't disappoint is the other three hours and forty-five minutes of this mini-series. I find that with mini-series, a lot of times the description and preview are actually better than anything else, but that's not the case here. This is a well written mystery, with some great action sequences, mixed with Science Fiction, and there is even a mob element to the whole thing. Timothy Hutton stars as the professor and gives the performance of a life time. How does one investigate their own murder and protect their ten year old daughter at the same time? His character was in a unique situation that really came off well. The whole package is outstanding, which is why the disappointing ending really bothers me more than it probably should.
Todd Smith
Super Reviewer
I haven't seen this in a few years, so my memory may be off, but I vaguely remember it being far better than most SciFi Channel movies. Timothy Hutton did a great job, as usual, and the plot was interesting.
Jackie M
Solid performances from Timothy Hutton and Randy Quaid but the rest of the cast aren't too memorable. The story itself as an interesting premise but it doesn't seem to explore it as much as it could have, instead focusing more on melodrama (such as a woman trying to escape her criminal husband) and drags out the runtime for no apparent reason. It has some clever moments, the occasional interesting twist, a solid climax, but ultimately is a wasted opportunity.
David Schwenker
Five Days to Midnight Quotes
There are no approved quotes yet for this movie.