The '60s
(1999)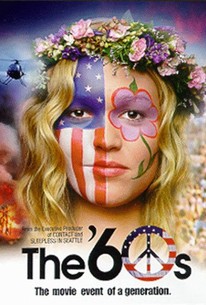 AUDIENCE SCORE
Critic Consensus: No consensus yet.
Movie Info
Tackling an entire decade--and a turbulent one at that--within a three-hour movie is a challenge, and while The '60s is frequently entertaining, it unfortunately is not completely up to the task. Following the lives of four young people, three from a white suburban family with parents out of The Wonder Years and one African American from the South, the characters are forced into one-dimensional clichés; they are their personas to the nth degree. Katie (Julia Stiles), the pretty young blond, is the lost hippie; Brian (Jerry O'Connell), the former high school football player, is the gung-ho-turned-disgruntled Vietnam solider; Michael (Josh Hamilton) exemplifies the political activist; and Emmet (Leonard Roberts), the only representative of the entire black movement of the '60s, plays first the pacifist who effects change through nonviolent means and then the Black Panther, and then he finally returns to his nonviolent ways. Yet, despite the trite characters and slow beginning, the movie picks up pace as each becomes involved in his or her own story. They become strangely compelling, to the point where you are sorry when the story switches to another character because you want to see more.

An eclectic shooting style--a mixture of archival footage, seamlessly spliced with shots of the miniseries in black and white, which then becomes color--effectively places the characters in the '60s context. You can believe that these folks were at the Democratic Convention in Chicago or the Watts riots or Woodstock. Yet, sometimes a break is needed: the film is unrelenting in presenting crisis after crisis with no respite, making one wonder if there were any quiet, simple, or nice moments in the entire decade. The sentimental soundtrack plays continuously, helping set the appropriate tone and the frenetic atmosphere of the movie. For those who lived through the '60s, this miniseries provides a nostalgic look back at the various movements and a general feel of the time, especially with the proliferation of film clips that aren't oft repeated (we've all seen the moon landing ad nauseam, but footage of Abbie Hoffman or Dylan playing the club scene in the East Village is refreshing). And for those born after this period, this miniseries makes the decade look like a frenzied, troubled mess that we can be grateful we had the good fortune to miss. --Jenny Brown
Critic Reviews for The '60s
There are no critic reviews yet for The '60s. Keep checking Rotten Tomatoes for updates!
Audience Reviews for The '60s
Very enjoyable depiction of many of the challenges, and issues, facing the U.S. during the 60's. Terrific soundtrack compliments the film. Decent cast. Very interesting storylines.
Cynthia S.
Super Reviewer
The '60s Quotes
There are no approved quotes yet for this movie.