6 Month Rule
(2012)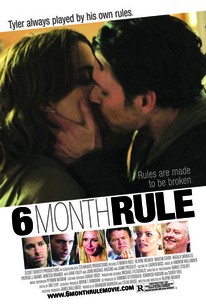 6 Month Rule Videos
6 Month Rule Photos
Movie Info
6 Month Rule revolves around a bachelor who follows a set of rules in order to avoid emotional attachment, the most important being: there is no woman so perfect that you can't get over her in six months. Knowing that he will get over her allows him to dismiss relationships easily and without regret. Until he meets a girl who changes everything. -- (C) Official Site
Rating:
R (for language including some sexual references)
Genre:
Directed By:
Written By:
In Theaters:
On DVD:
Runtime:
Studio:
Cast
Critic Reviews for 6 Month Rule
Audience Reviews for 6 Month Rule
What a terribly sad ending for poor Tyler. I am only happy that he got his friend back and learned a valuable life lesson.
Heather Metzger
When it comes to romantic comedies, I feel I see the same film over and over again, but with different actors. The story usually ends up the same in every circumstance. While, I know thatâ(TM)s the point for a romantic comedy, I always yearn for something different. Something that is not afraid to stray from the typical plot. With Blayne Weaverâ(TM)s â~The 6 Month Ruleâ(TM), it was a breath of fresh air to see the romantic comedy genre get turned on its ear and change the game. Blayne Weaver is a jack-of-all-trades so to speak. He acts, writes, produces, directs, and even lends his voice to Peter Pan for Disney. His latest film â~The 6 Month Ruleâ(TM) tasks him to write, direct, and star. According to Weaver, itâ(TM)s the best job in the world. â(TM)The 6 Month Ruleâ(TM) follows Tyler (Blayne Weaver), a semi-successful photographer who has a swamped love life with many girls. He lives his life with a certain set of rules when it comes to the dating world. And 10 times out of 10, those rules really donâ(TM)t pay out in the long run. You could say Tyler is a womanizing jerk that his very high standards. One of his rules is the title of the film. He can guarantee that any woman on the planet can be forgotten in six months. Tyler is joined by his best friend Alan (Martin Starr) who has just broken up with his long-time girlfriend Claire (Jaime Pressly). Alan is completely devastated (as we all would) by the sudden break-up. Tyler starts to coach Alan in his dating system, until he meets Sophie (Natalie Morales). Sophie almost immediately sees right through Tyler and his devious ways and always has the upper hand with him, something Tyler is not used to. Tyler abandons his set of rules to try and win over Sophie. Much to our surprise, Tylerâ(TM)s efforts are more difficult, because Sophie has an indie rock star boyfriend. From here on out, we follow Tyler on his personal and emotional journey to find himself. What I like most about this movie, besides the great cast including John Michael Higgins and Dave Foley, is that the film completely surprised me with its non-conformist story line. It really takes some twists and turns that a normal romantic comedy would not have taken. I love watching a film that isnâ(TM)t afraid to do something different, and that is what â~The 6 Month Ruleâ(TM) did well. I felt some of the pacing of the film was a bit off from time to time, and I would have loved to see a more likable character in Tyler, but ultimately, thatâ(TM)s also what I loved about the film. It went in a different direction. The â~6 Month Ruleâ(TM) is much like the film â~Swingersâ(TM), but for a new generation. Itâ(TM)s romantic comedy plot line strayed from the rest and showed me something a little different than Iâ(TM)m used to. And I welcome that. If you are looking for a good romantic comedy that takes you on an original journey, then you might find something remarkable and great in â~The 6 Month Ruleâ(TM). -Bryan Kluger
Bryan Kluger
Discussion Forum
Discuss 6 Month Rule on our Movie forum!
News & Features