The '70s
(2000)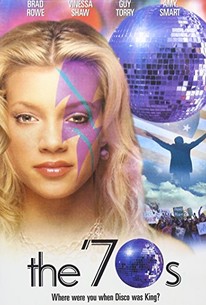 AUDIENCE SCORE
Critic Consensus: No consensus yet.
Movie Info
In 170 minutes, this NBC-produced miniseries hoped to capture a decade--and in many ways, it did. The '70s traces the lives of four friends from their senior year at Kent State (marked by the killing of four student protestors by the National Guard) through the era of Watergate and Tang. At its worst, it's a so-so soap opera held together by fascinating bits of historical trivia, giving equal time to the issues of the era (the Equal Rights Amendment, the oil crisis) and inescapable bits of pop culture (Mary Tyler Moore and the hustle). The characters are pretty obviously engineered to plumb every angle of the decade's cultural topography: the young black National Guardmember who deserts to Los Angeles in time to join the Black Panthers and open a cinema featuring hits like Shaft and Cleopatra Jones, the sorority girl turned disco queen turned California cultist, the young intellectual woman who finds feminism and abandons marriage in favor of a career, and the conservative law student turned Watergate burglar turned pipeline worker turned environmentalist. The acting's not bad and the story hangs together, but the show is really at its best when the soundtrack takes over, allowing montages of memorable photos and archival film clips to reveal (and revel in) the real history behind the melodrama. --Grant Balfour
Critic Reviews for The '70s
There are no critic reviews yet for The '70s. Keep checking Rotten Tomatoes for updates!
Audience Reviews for The '70s
Although the last quarter was making the same merging mistake as its prequel [The '60s], its still way much better.
WS Wu
This is the best movie that captured the look of the 1970s decade, and I saw it probably back on its original airing on NBC seven years ago. "The '70s" shows it all that happened throughout the decade, including Kent State, disco, feminism, Watergate, and the oil crisis. I love the '70s decade, plus this miniseries as well, and I would like to see "The '70s" again when I find it on DVD.
Eric On His Fantasy Quest Vs. The Real World
Not anywhere near as good as "The 60's" with Julia Stiles and Jordana Brewster. Still, some redeeming qualites.
Andrew Olson
The '70s Quotes
There are no approved quotes yet for this movie.
Discussion Forum
Discuss The '70s on our Movie forum!