71: Into The Fire
(2010)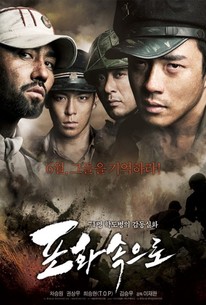 AUDIENCE SCORE
Critic Consensus: No consensus yet.
Movie Info
In this war drama from director Jae-han Lee, viewers travel in time back to August 11, 1950 to witness one of the most momentous events in South Korean military history. On that day, 71 courageous South Korean soldiers managed the incredible feat of holding their ground against the imperial North Korean 766 Commando Brigade for a grueling 11 hours. ~ Jason Buchanan, Rovi
Critic Reviews for 71: Into The Fire
Audience Reviews for 71: Into The Fire
Pohwasogeuro (71: Into the Fire in English) is an under-seen and relatively unknown South Korean war movie that deserves a bigger audience to view it. It not only paints a picture on the horror of war, deliver on huge set-pieces, but above all makes you feel patriotic. Pohwasogeuro (71: Into the Fire) tells the true story story of student-soldiers trying to protect a middle school during the early days of the Korean War. As far as historical accuracy goes I can't say much for this was the first time I ever seen anything based on this event. The story is well written with a huge portion of the movie itself is actually dedicated to developing the characters. There's also a sense of urgency for the heroes we follow. Whereas a majority of war films would have us follow a trained soldier, in this film we don't follow to many which brings a sense of urgency often missing from this genre. It's because of this we care about our students soldiers for they are not the best trained, not the most professional, or even the most intelligence. They are, however, cooperative putting aside their differences to fight together for a common cause. Some area of the plot do go underdeveloped, like the protagonist relationship with his mother, but the aspects that are developed do help this film. This war film doesn't focus on the war itself, but instead on the people who fought in them and giving us soldiers we could relate too. No war movie (at least from the one I've seen) is without big battle set-pieces. This certainly delivers on that with plenty blood, explosions, and destruction for anyone who watches war movies just for the spectacles. Some will be disappointing they is not a whole of allot fighting til the final act, but it's the lack of fighting that help the film focus on it story. The production design is top notch. Clothing and locations all look like from the era it takes place it in. It contains good acting, especially from the cast that portrays the students soldiers. The direction for the most part is good. Some area could have improved from a better direction; like a scene when a soldier kills a child is not talked about much and is a key moment that is brush aside. Pohwasogeuro (71: Into the Fire) is a South Korean war movie that has quality drama and big battle scenes that be compared to Hollywood war films. If you're fan of war films you should this check this out.
Caesar Mendez
Super Reviewer
I kinda hate war films. When this started, sure I was impressed with the action setpieces but I dreaded watching a movie filled with staged battle sequences. However, after the first battle it focuses on the students who are left in charge of guarding a military base at a high school. From there it gets very involving. I also loved the portrayal of the main antagonist from North Korea, it was admirable that such a patriotic film never painted him out to be a complete shitheel.
Christopher Brown
Super Reviewer
71: Into The Fire Quotes
There are no approved quotes yet for this movie.