72 Desperate Rebels
(1980)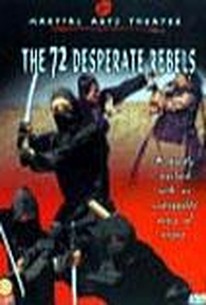 AUDIENCE SCORE
Critic Consensus: No consensus yet.
Movie Info
Directed by Lin Bin, Seventy-Two Desperate Rebels centers around the infamous pirate Pu Ho-nien's effort to topple the Ming Dynasty. When Pu employs 72 seasoned kung-fu fighters to help achieve his goal, the situation looks bleak for the reigning imperialists. However, among the intricately rated fighters -- younger members wore headbands indicative of how many men they had killed -- exists a spy, a blind swordsman, and the mysterious Ghost Killer, all of whom threaten Pu Ho-nien's plans. ~ Tracie Cooper, Rovi
Rating:
NR
Genre:
,
Directed By:
In Theaters:
On DVD:
Runtime:
Critic Reviews for 72 Desperate Rebels
There are no critic reviews yet for 72 Desperate Rebels. Keep checking Rotten Tomatoes for updates!
Audience Reviews for 72 Desperate Rebels
½
I have a confession to make. I don't really know a damn thing about '70s-era martial arts flicks. Despite me being a huge psychotronic film buff, whenever chopsocky action flicks involving ninjas, bad dubbing and masters being avenged comes up, the conversation goes a little like this: My friends: "Man, did you read the latest Ric Myers column? He actually calls what Bolo Yeung does in [i]Enter the Fat Dragon[/i] wing chun! It's clearly an off-shoot of the Red Eagle fighting style." Me: "I like Michelle Yeoh." My friends: "What?" Me: "Nothing." Part of it is that there's just so damn much of it out there, and it all basically looks the same. It's a bit intimidating, and I'm slowly making myself ease into it. I found a DVD of [i]72 Desperate Rebels[/i] for $1.99, and figured that, because it's a Tai Seng release, it must be at least worth seeing. If Desperate Rebels is any indication, I really need to get more into this stuff. Sure, it's badly dubbed, with long pauses in the middle of sentences and someone actually saying "Your Kung-Fu is good!" Sure, there's dry spots. But [i]72 Desperate Rebels[/i] is a great kitchen sink martial arts flick, what with ninjas, parents being avenged, swordfighting, rebellion, disabled martial artists (one blind, another one-armed) and even two memorable sequences where our heroes are attacked by bells (!), so it's never dull for more than a minute or so. The plot, as it is, involves a trio of fighters standing up against the title band of pirates led by the merciless (but fair) Po. Po's henchmen include an assortment of ninjas, bell-wielders and monks, including his main henchman, a giant monk who, in the first scene, defeats a foe by biting off the end of his sword with his gold teeth and spitting it back into the other guy's forehead! The trio of heroes work there way through Po's band (I didn't bother counting to see if there were actually 72 defeats along the way), each for their own reasons (vengeance, loyalty to the government, mercenary spirit). Po, being a fair crime lord, actually captures them at one point, but then releases them so they can fight his unbeatable three warriors. Who are soon beaten. Filled with fast zooms, a negligable plot and lots and lots of varied martial arts action, [i]72 Desperate Rebels[/i] is tons of fun. Shame, then, that the DVD is pretty lame--no extras, and made from a terrible print that seems to be from a VHS transfer. I don't really know how to judge this, as I've not seen enough films in this mold, but I had a great time.
Paul Freitag
72 Desperate Rebels Quotes
There are no approved quotes yet for this movie.