A Woman, A Gun and a Noodle Shop (San qiang pai an jing qi) (A Simple Noodle Story) (The First Gun)
(2010)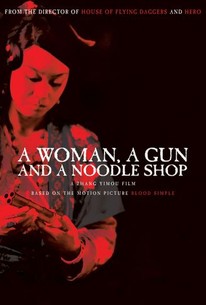 A Woman, A Gun and a Noodle Shop (San qiang pai an jing qi) (A Simple Noodle Story) (The First Gun) Photos
Movie Info
Love, betrayal, and murder take root in the deserts of China in this comedy drama from filmmaker Zhang Yimou. Wang (Ni Dahong) is an ill-tempered tyrant who runs a noodle shop not far from the Great Wall. Wang treats his employees like dirt and isn't much friendlier to his long-suffering wife (Yan Ni), who soothes her nerves by having an affair with Li (Xiao Shenyang), one of Wang's cooks. The wife would like to take Wang out of the picture, and one day she gives Li a gun, suggesting that he kill Wang so they can live in peace. A crooked cop named Zhang learns about the plot and tells Wang about the lovers, offering to kill them for a price. The next day, Zhang returns with evidence that Wang's wife and his cook have been shot, but shoots Wang before he can pay him. Zhang is about to empty out Wang's safe when he discovers he wasn't the only one with a plan to double-cross the despised noodle baron. Inspired by Joel and Ethan Coen's Blood Simple, San Qiang Pai An Jing Qi (aka A Woman, a Gun and a Noodle Shop) was an official selection at the 2010 Berlin International Film Festival.
Critic Reviews for A Woman, A Gun and a Noodle Shop (San qiang pai an jing qi) (A Simple Noodle Story) (The First Gun)
Audience Reviews for A Woman, A Gun and a Noodle Shop (San qiang pai an jing qi) (A Simple Noodle Story) (The First Gun)
A cruel noodle shop owner offers a corrupt police officer money to kill his unfaithful wife and her lover but when he double crosses and murders him the hapless lover covers up the crime fearing his mistress responsible. I was very curious to see Zhang Yimou's interpretation of the Coen brother's debut film, being a big fan of Hero and House Of Flying Daggers as well as the original in question. The story has a lot of potential for inventive adaptation and I was hoping for a Shakespearian Kurosawa style affair; unfortunately what Zhang has served up is more Stephen Chow than Akira Kurosawa. The grim details of the plot have survived intact but the cartoon characters in gaudy pantomime costumes stutter, pratfall and double take away like refugees from an episode of Scooby Doo making a very uneasy concoction of weak slapstick humour and bleak neo noir that just doesn't work. Stone faced Honglei Sun has none of the character of M. Emmett Walsh's sleazy private eye and all the suspense and sexual tension of the protagonists disappears in a puff of smoke when portrayed like a Carry On film. The final scene actually works quite well as it's a straight adaptation using swords and arrows instead of gunfire but this just serves to throw into sharp relief how ill-judged the rest of the film truly is.
½
A remake of the Coen Brothers' Blood Simple that completely works. It transposes from 1980s Texas to ancient China. Smart, funny and enormously entertaining. It highlights how men become easily tempted by money, the root of all evil, when faced with bucket-loads of them, and how coincidences play a huge part in getting the characters where they end up, with each unfortunate moment ending in becoming a corpse (yes, there will be blood, and death) in a seemingly convoluted narrative that has to be seen to be believed the kind of rich writing which can pull it off. It sure is a lot of fun delivered by its outstanding casting who seem all too comfortable in dishing out black and physical humour.
Dean McKenna
Super Reviewer
I expected something like Kung Fu Hustle, crossed with Crouching Tiger, but what I saw was a very strange movie. The outrageous makeup, and unrealistic costumes, made this film almost unwatchable...A silly, slapstick remake of Blood Simple that was neither clever, or funny. Giving two stars because it was beautiful, but no other redeeming qualities.
Cynthia S.
Super Reviewer
A Woman, A Gun and a Noodle Shop (San qiang pai an jing qi) (A Simple Noodle Story) (The First Gun) Quotes
There are no approved quotes yet for this movie.