Altitude
(2010)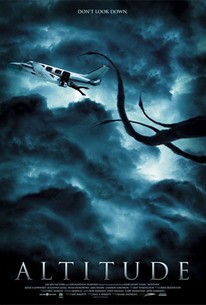 AUDIENCE SCORE
Critic Consensus: No consensus yet.
Movie Info
Five teens take to the sky in a small airplane, and encounter a supernatural force beyond human comprehension after a mysterious function sends them climbing to impossible heights, and straight into the heart of a massive storm. Their radio fried and their controls unreadable, the frightened flyers soon realize that something unspeakable is lurking in the clouds, and it's determined to snatch them right out of thin air.
Critic Reviews for Altitude
Audience Reviews for Altitude
What I enjoy most in the horror genre is that some films come along and bring something new to the table. This is a film that tries to be different and the result is a pretty good little film that has an interesting and very entertaining plot. This movie proves that you can do so much with a limited budget, and the result is an enjoyable ride from start to finish. The film has its flaws, but nonetheless it's held together by a good cast and effective directing. Altitude is an underrated flick that doesn't deserve the flack it has received. The film manages to better than most low-budget horror films, and considering that the film has gotten plenty of bad review; this is a surprising film that should appeal to fans. The director does a very good job here and he crafts something unique on-screen. This is a film that some may view as bad, but really they should give it a chance. With an effective pace, this is a picture is never dull or uninteresting. You'll be hooked from start to finish. A better than average flick, Altitude delivers something fresh in the genre and as a low-budget chiller, it succeeds where many big budget horror yarns fail. This is not a perfect film, but it does its job to entertain any horror fan looking for a fine low-budget affair that is far better than what most people claim about it. Impressive in its effects, story acting and directing I really thought this was a good film, and horror fans should check it out if they come across it.
The monster although brings up notions of fear and builds onto a "stange tales" genre, imho is expendable and the film could have benefited in overall story with a re-write of the script exluding the fantasy and adding more reality. Overall they pushed the movie out of the norm, and for critics, industry and the cast this could be good, but for average punters, this film will probably lack sales and get a small cult audience. Modern B movie. Quite fun, a little bit progressive too.
Alexander Wilson
Super Reviewer
½
That poster sure is a grabber. LOOK AT IT! Huge ass tentacles coming after a plane. Not a ship, but a plane. These tentacles are in the sky. Awesome! Obviously sky tentacles vs. plane wouldn't last an entire film. So the film is more of a bizarre Twilight Zone inspired mix of supernatural forces, weirdness, and people acting like shits in a difficult situation. The film is redunkulous. That's a fact. But when it focuses on the human drama and tension, it certainly takes off. I must admit to being a bit disappointed by how sudden and spaced out the sightings of tentacles were. But some films (The King's Speech) have NO tentacles.
Luke Baldock
Super Reviewer
Altitude Quotes
There are no approved quotes yet for this movie.