Zeitgeist: Moving Forward
(2011)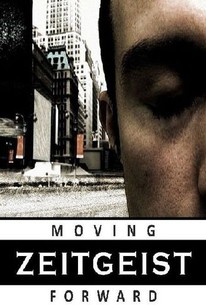 AUDIENCE SCORE
Critic Consensus: No consensus yet.
Zeitgeist: Moving Forward Photos
Movie Info
This documentary examines the possibility of creating a sustainable economy based on available resources.
Critic Reviews for Zeitgeist: Moving Forward
There are no critic reviews yet for Zeitgeist: Moving Forward. Keep checking Rotten Tomatoes for updates!
Audience Reviews for Zeitgeist: Moving Forward
Shows hope for us as humans.
Thomas Johnston
Super Reviewer
½
Both Zeitgesit Addendum and Moving Forward explore topics relevant to every individual; money, government, health, the planets limited resources and how we live our lives. Throughout these 2 films "the system" is discussed at length, the negative aspects (which are many) exposed and possible alternatives suggested and explored. If nothing else, by the end of both or either documentary the viewer will understand that rather than "THE system" it is but "A" system and there are other healthier, leaner, smarter, cleaner, more resourceful and more ethical ways we can inhabit, survive and prosper on Earth as human beings. Whether drastic or subtle, I think that anyone who watches either of these films will change the way they do something in their day to day life. That is a bold statement to make, but I think that these films are that powerful. You can see these films as dangerous Propaganda or our dirty laundry finally being aired in public; but that is down to the individual. As films, I don't feel that either is polished or edited very well. There are many places where a leading thinker in his field will be speaking at length on a topic that could have been cut down - it is left in a kind of semi-lecture format. I can see viewers becoming bored or nodding off perhaps. Both films take a long time to get to the juicy content and appear rather amateurish at times. Although, both of these films feel like "bargain basement" documentaries it is in the content where both excel. Rather than giving me "food for thought" these films have changed my life more than perhaps anything else I have ever watched (with the obvious exception of the News). Having impact of this level cannot be ignored. Out of the 2 films I would recommend Addendum over Moving Forward as I feel it covers more ground, is a little less boring and is better documentary all round.
James Crawford
Super Reviewer
½
While I reckon that the makers raise certain serious issues, I can't help but feel they've some. (Anything besides "Look who's talking"?) NM. My issue was to fight the boredom of its runtime. As if it weren't Moving Forward. Its length was its biggest problem. At best, it should have been 90 minutes long. Yet, I survived all through to the end of it, although I'd to push it forward at times. It took me quite a few attempts to get over it completely. I'd to take breaks now and again owing to its interesting discussions. No sooner did I resume watching, I started yawning. It's a mean one. To each, their own. Finally, I'd say that it's a must watch for anyone who feels it's a must watch. Over and out.
familiar stranger
Super Reviewer
Zeitgeist: Moving Forward Quotes
There are no approved quotes yet for this movie.