The Little Engine That Could
(2011)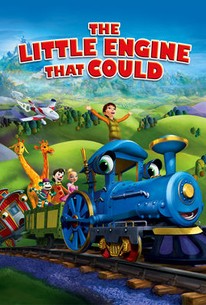 AUDIENCE SCORE
Critic Consensus: No consensus yet.
Movie Info
The timeless story comes to life in this all-new, feature-length film filled with fun and adventure! When Little Engine (Alyson Stoner, Cheaper by the Dozen) must leave Dreamland to deliver toys into the real world, she sets her fears aside and learns that with a little determination and courage, anything is possible. Featuring an all-star cast, including Whoopi Goldberg (The View), Jamie Lee Curtis (Freaky Friday), Corbin Bleu (High School Musical) and Brenda Song (The Suite Life of Zack and Cody), this "fun family film" (Francine Brokaw, Los Angeles Family Magazine) is one you'll enjoy again and again
Audience Reviews for The Little Engine That Could
I'm not annoying! I'm not unique! Some toys need to make it over a large mountain and out of children's dreams and into their hands. Unfortunately, the engines that are responsible for traveling over the mountain refuse to help the toys get delivered. A small freight engine understands the importance of the assignment and thinks he can complete the task. "We only have two chances of finding them...slim and none..." Elliot M. Bour, director of Winnie the Pooh: Springtime with Roo, Pixie Hollow Bake Off, Kronk's New Groove, and Pooh's Heffalump Halloween Movie, delivers The Little Engine that Could. The storyline for this is fun and my daughter loved watching it unfold. The animation style was very good and the story concludes well. "We're not going to fly again, are we?" I randomly came across this on Netflix and thought it would be a fun one to watch with my daughter. This does have a solid list of voices that includes Jamie Lee Curtis, Whoopi Goldberg, Corbin Bleau, Jodi Benson, and Brenda Song. This was just above average and not worth adding to your collection but worth watching once. "I thought I could...and I did." Grade: C+
Kevin Robbins
½
The story is familiar to anyone who has been a child the last few generations. It's a simplistic tale really about perseverance, so when this film was announced, I was a bit skeptical on how it would turn out. It actually isn't that bad. A few strong points of the film start out with the strong voice cast. Star power in animation only works when the caliber actors act the part instead of putting themselves in animated shoes and being more "themselves" than the character. That has been my issue with more than a few animated pictures, but here it wasn't. Not even once. However, the drawback is only a few of them are memorable. The main character of the show, the Little Engine, along with Rusty the broken down "dream hauler" and the menacing Nightmare Train. Everyone else just falls in the background and there truly isn't enough plot to care for them much. The story also is typical, but it works. An alternate world of trains that deliver "dreams" to the real world via a tunnel that gets blocked off when a real boy enters their realm. Been there, seen that. It really wouldn't work for a more sophisticated story, but it fit here. Really the wind up is "If you think you can, you will. If you think you can't, you won't", a phrase that basically sums up the majority of childrens films. Visually, you've seen better CGI, and thats really the main criticism. I know its a lower budget film than something like Pixar, so that alone wont cause me to knock the film, but there could have been ways to make it a bit more polished instead of the blow up computer images being used. It's mostly for littler children, if you're over about 7 or 8 you'll get bored with multiple viewings. But there are a couple of things to take away from it. It's a fun experience if nothing else.
Jackson Walsh
Super Reviewer
Other than some notable voice talent The Little Engine That Could is a rather poorly animated cartoon that will only appeal to small children but might be to long for their attention span.
Jonathan Porras
The Little Engine That Could Quotes
There are no approved quotes yet for this movie.
Discussion Forum
Discuss The Little Engine That Could on our Movie forum!