Without Men
(2011)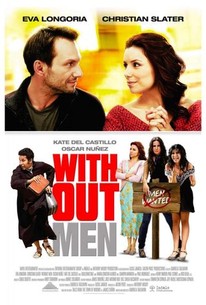 AUDIENCE SCORE
Critic Consensus: No consensus yet.
Movie Info
Without Men is a comedy about the women of a small and remote Latin American mountain village that's forever altered the day all of its men are recruited to go fight in the country's civil war. Left to fend for themselves, the women of the town, led by Rosalba (Eva Longoria), slowly emerge from their supporting roles as wives and daughters to become unwitting founders of a remarkable new society: an all female utopia. When the men, led by an American reporter (Christian Slater) return to try to reclaim their power, a clash of sexes ensues with unsuspected consequences. A sexy, fun, irreverent exploration of the age-old question: What would the world be like if it were run by women? -- (C) Official Site
Critic Reviews for Without Men
There are no critic reviews yet for Without Men. Keep checking Rotten Tomatoes for updates!
Audience Reviews for Without Men
Pitched somewhere between an episode of I Love Lucy, a Pedro Almodovar film and an entry in the National Lampoon series, Without Men is one of the least funny, corniest and most inexplicable films ever.
Lee Mayo
It appears that from the cover you would think that Christian Slater was actually important to the story. And infact he's in only a few minutes of the movie. Oscar Nunez is a lot like his character in The Proposal, where he has no idea what is going on and is somewhat sex crazed. Eva Longoria and Christian Slater's characters are also not romantic interests. The cover art is very misleading. I guess if you like seeing women parading around in their underwear and making out it was an okay movie. But it really didn't have a lot of plot to go along with that...or at least for something that wants to be feminist, it made them really stupid!
Sarah Helwig
Racist, sexist, but worst of all, boring. The plot is stolen from an episode of Futurama, which was actually more realistic & believable than this was. The misogynist, yet cliched, raunchy scenes were neither titillating nor shocking. They were neither sexy nor funny. The jokes are sophomoric, and not in an irreverent National Lampoon way, but in a bunch of pre-pubescent boys wrote them during gym class way. All of the women in the film are either shrews or helpless or both. This is unfortunate from a viewer's perspective because men take up about ten percent of the screen time, even though poor Christian Slater gets top billing. Now let's talk about the blatant racism. I always say, if you're a comic, and you're going to be offensive, then it damn well had better be funny. This movie does for Latinas what Mob Wives does for Italian American women: sets their image back decades, if not a century. However, there is one important difference: there is perhaps an ounce of truth in the "reality" show in which over-privileged women volunteered to be put in contrived situations and manipulated in editing. South American women from small farm towns are anything but spoiled and privileged, and farm women from around the globe do back-breaking and often thankless work running their households and raising families. These women wouldn't dare break a nail let alone bend their backs...unless it was to do something SEXY...not. Ask any woman who grew up on a farm and see if she lacks the skills to screw in a lightbulb or take out the garbage, let alone care for the animals, as these characters do. All they do is quarrel and compete with eachother...until a MANLY woman arrives to save...I mean manipulate...them. Sadly, the producer, whoever he was, achieved the austouding feat of assembling a quite talented C-list of comedic actors, whose talents are completely wasted. It was because of this cast that I subjected myself to more than 15 minutes of this...this...I don't know what to call it...perhaps a lorno? I just waited, and waited, for something entertaining to come, but it never did. I was simultaneously bored and saddened for the actors and Latinas everywhere...so I guess that's an achievement.
Anne Tisi
Without Men Quotes
There are no approved quotes yet for this movie.
Discussion Forum
Discuss Without Men on our Movie forum!