Cannibal
(2010)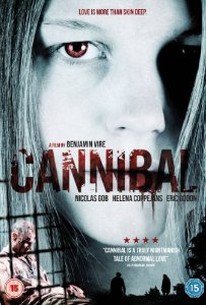 AUDIENCE SCORE
Critic Consensus: No consensus yet.
Movie Info
An agoraphobic golf fanatic rescues an unconscious woman he finds in the forest, and attempts to protect her from ruthless gangsters after discovering she harbors a dark secret. Max is practicing his stroke when he stumbles across an inanimate woman drenched in blood. Quietly taking her home and cleaning her up, Max follows her after she awakens and flees into the darkness. When he finds her seducing another man and consuming his flesh, Max's initial shock gives way to a feeling of deep-rooted love. Later, when she is taken from him, Max realizes that in order to get her back, he will have to confront the violent past he thought he had left behind.
Critic Reviews for Cannibal
There are no critic reviews yet for Cannibal. Keep checking Rotten Tomatoes for updates!
Audience Reviews for Cannibal
I've seen many terrible horror movies in my life, but this has to be one of the most boring, dull, and poorly made horror film I ever had the displeasure of watching. Cannibal is about Max, a agoraphobic, who lives in a cabin in the middle of nowhere when one night, he finds a beautiful unconscious woman cover in blood. Cannibal has no story despite it almost being an hour and forty five minutes. You see summary I just wrote, that's basically the closest to a story you're ever going to get from watching this garbage. It doesn't have story developed or explains what going on, no character development, no dialogue for 95% percent of the movie and when they do talk it's uninteresting, and literally void any acting. The way it filmed is really poorly done, there poor lighting, poor camera angles, and pointless scene. If you take away what wasn't necessary in the movie you'll probably have like a four minute movie, which would also be garbage. The actors were completely wasted too, they barely get to talk and are just for show as they just move around and do pointless things. Seriously, not a single person looked motivated to give a good performance in this movie. It's way too long and it doesn't explain anything. Why were these people looking for the mysterious girl, why the hell is Max a legend, who hell are Max friends, and why was this movie ever made. All these questions and more will never be answered because it's as bad and dull as a horror movie can get and it fails in every department of being a good movie. If you're looking to punish someone with a movie that has no story, no character development, no dialogue, and no redeeming value to it, than by all mean this is the movie for you. It's a movie literally so dull and bad that you'll literally have more fun watching a video of your mother giving birth to you than you will watching this mess of a movie.
Caesar Mendez
Super Reviewer
Cannibal Quotes
There are no approved quotes yet for this movie.
Discussion Forum
Discuss Cannibal on our Movie forum!