Our Children
(2012)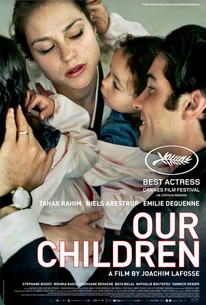 AUDIENCE SCORE
Critic Consensus: No consensus yet.
Movie Info
Murielle (Emilie Dequenne) and Mounir (Tahar Rahim) love each other passionately. Ever since he was a boy, the young man has been living with Doctor Pinget (Niels Arestrup) who provides him with a comfortable life. When Mounir and Murielle decide to marry and have children, the couple's dependence on the doctor becomes excessive. Murielle finds herself caught up in an unhealthy emotional climate that insidiously leads the family towards a tragic outcome. (c) Distrib
Critic Reviews for Our Children
There are no critic reviews yet for Our Children. Keep checking Rotten Tomatoes for updates!
Audience Reviews for Our Children
Even though the first scene eliminates some of the impact that the end should create, we can't deny how powerful and moving this film is - and Émilie Dequenne is fantastic, conveying with such anguishing intensity the whole suffering of an emotionally depressed woman.
Carlos Magalhães
Super Reviewer
Kindly elderly doctor Andre (Arestrup) shares his home with Mounir (Rahim), the younger brother of a Moroccan woman he once married purely so she could acquire Belgian citizenship. The two men enjoy something of a surrogate father/son relationship. When Mounir marries his young Belgian girlfriend Murielle (Dequenne), Andre invites them to live under his roof. The couple have four children in a short space of time and the pressure begins to overwhelm Murielle who wishes to leave Andre and acquire a home for her family. Mounir refuses to leave however, feeling he owes Andre his company. With her marriage and family life affecting her psychologically, Murielle begins to have disturbing thoughts. The issue of how to integrate immigrants from conservative Islamic cultures into a liberal society is one Northern European countries, like Belgium, find themselves currently struggling with. The dynamic of 'Our Children' at first seems like a microcosm of this issue. When the Muslim Mounir first informs Andre of his intentions to marry a Belgian girl, the older man frowns, warning him of the dangers of attempting to mix cultures. After the marriage, Murielle begins to explore Islam while her husband ironically seems more interested in integrating himself into Belgian society. Just as LaFosse seems to be getting somewhere with this exploration, he switches focus to Murielle's psychiatric breakdown, resulting in a second half which feels like a poor imitation of Lars Von Trier's "tortured female" movies. By opening his film in the immediate aftermath of a tragedy, LaFosse pulls something of a cheap trick on the audience. Our subsequent anticipation of this event keeps us on edge for the duration of the film, making the audience do the film-maker's work. The problem is that the situation never really feels believable enough to result in a tragedy of such disturbing proportions, despite a trio of quality performances. Andre's motivations are never made clear enough for us to stop doubting his intentions and LeFosse seems content to rely on Arestrup's kindly face to make us buy into his being such a caring person. Dequenne showed with her turn in 'The Girl on the Train' that she does a neat line in crazy and, while she's believably disturbed here, the process leading to her breakdown just isn't convincing enough. For all its faults, 'Our Children' is relatively engaging, thanks mainly to the performances from its three leads. A lengthy unbroken shot featuring Dequenne breaking down on a car journey is one of the highlight's of 2013 cinema.
The Movie Waffler
Super Reviewer
Our Children Quotes
There are no approved quotes yet for this movie.