Generation War
(2014)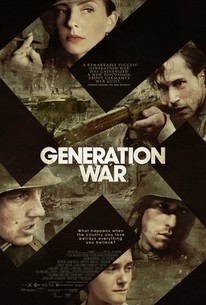 Movie Info
Billed as a German BAND OF BROTHERS, the blockbuster miniseries Generation War vividly depicts the lives of five young German friends forced to navigate the unconscionable moral compromises of life under Hitler. Level-headed, highly decorated officer Wilhelm (Volker Bruch) goes off to the eastern front with his sensitive younger brother Friedhelm (Tom Schilling). Deeply in love with Wilhelm is Charlotte (Miriam Stein), a young nurse who looks forward to serving in the Red Cross. Greta (Katherina Schüttler) is a talented singer who longs to become another Marlene Dietrich, while her Jewish boyfriend Viktor (Ludwig Trepte) fights for his life while hiding among members of the Polish Resistance. (c) Music Box Films
Rating:
NR
Genre:
In Theaters:
On DVD:
Box Office:
$87,116.00
Runtime:
Studio:
News & Interviews for Generation War
Critic Reviews for Generation War
Audience Reviews for Generation War
Is it bad that I was rooting for the Germans? An amazing depiction of German forces in WWII. Strong performances and characters you really start caring about.
Adam Barnes
Netflix 8/2/14 A compelling story told from the German side both military and civilian side. The human toll is tragic no matter which side you see it from. This is a great series.
Nick Ueber
a German version of BAND OF BROTHERS??? I don't think so!!! I'm not a film critic... only someone with an opinion on the subject... So, there are certainly things I didn't like about Gen. War - like somewhat limited showing of atrocities committed by German soldiers or only indirectly including the death camps (via the partisans planning session and by partisans stopping of a train carrying Nazi victims to a camp) BUT depicting Russian soldiers in their very first appearance in the movie as raping scums or depicting Polish partisans as Jew-hating weirdos... HOWEVER, my impression is that Gen. War does do justice to this from a German perspective extremely complex and pithole-y topic. None of the characters are depicted simple and one-dimensional... in no part did I feel my thoughts and emotions where manipulated and steered into a certain direction (a-la-Steven-Spielberg movies)... contrarily one is left in the ambiguity to observe... observe the transformation of Wilhelm from model solder to doubter and deserter... of bookish & intellectual Friedhelm into a blunt/cold and despaired individual that at the very end of the war can't stand his fellow Germans, family and probably himself that he suicidally runs into Russian bullet... (other three characters please watch yourself)... and none of these transformations are straigh-line processes... Similar to "The Lives of Others" there is little black-and-white but lots of gray.... so to wrap it up, either reviewers missed some of the gray which was lost in translation / subtitling... or Germany-bashing (Gen. War "Airbrushed" history - more or less than US-based works on the subject?) in a two-page review is just more conformable to "Band of Brothers"-accustomed readers... Oh, and why oh why do so few reviews pick up on the main line of the movie: "Der Krieg bringt das Schlechteste in uns hervor" - war brings out the worst in us??? Maybe b/c we've been waging a war again terrorism for the last 10+ year and no one wants to be reminded of what that did...??? Also, nowhere was picked up that writer Kolditz and two of the five main actors have an East-German background where the regime saw itself and taught/shaped its citizen in the tradition of the anti-fascist partisans... which makes it interesting that Kolditz spend 8 years working and preparing all this... So, no "German Band-of-Brothers"... no airbrushing... just some Germans trying to understand how humans, with all their humane and inhumane sides, live and evolve in a ideologically sick and uber-militarized society that was heading for the wall... well worth the 4 1/2 hours...
Car Brem
Generation War Quotes
There are no approved quotes yet for this movie.