Queen
(2014)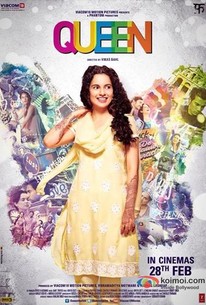 AUDIENCE SCORE
Critic Consensus: No consensus yet.
Movie Info
Queen is the story of a simple Delhi based girl who's life changes unexpectedly. Rani (KanganaRanaut), a simple middle class, conservative girl has her dreams shattered when her to be husband leaves her stranded at the altar. Rani then decides to go on the honeymoon - the one she's always been planning - by herself. The girl who's never left her house alone now goes to Paris and Amsterdam on her own. What follows is a fun, quirky journey of Rani who discovers herself, while exploring the unknown.(c) Viva Entertainment
Audience Reviews for Queen
½
I can't believe I saw a Bollywood movie that lasted over 140 minutes and there was not one song and dance number. Really, not one. The beginning, when the family is celebrating Rani's impending wedding, does not count as it is a family partying. It's not meant to move the story forward in any way. It must take a great amount of self-restraint. I think that's where the positives end to be honest. Then again, there's like 10+ music montage scenes here, so that's an adequate substitute. This movie is definitely well-intentioned, seeing the story of a simple woman who, upon being dumped by her fiancee, decides to go on her honeymoon by herself, wherein she discovers her zest for life. It's as corny as it sounds and it's just, honestly, not a very good movie. It's more like a series of sketches where Rani gets herself into silly situations, a typical fish-out-of-water concept, and how her very conservative upbringing makes her react when she sees the lifestyle some the friends she meets on her journey lead. I will say one thing, and I guess this is a positive, and that is that the lead of this film, Kangana Ranaut, is immensely likable. I'd say that the Rani character is a bit of a muppet, but I think Kangana does a decent enough job at not letting the character become someone you pity. The story is, essentially, nonexistent. It's all about Rani liberating herself and becoming a new woman. That's all fine and good. But the movie is, as I mentioned, slightly over 140 minutes long. You need a lot more than Rani just having a good time with people she meets in Paris or Amsterdam. That's what the movie boils down to. It's all Rani having a good time. And that's fine if you're a real person wanting to just have a blast to forget a particularly nasty breakup. It's not so necessarily fine when you're in a fictional movie that's super fucking long. You need far more content than the film was willing to provide here. They were hoping that Kangana being so charming and likable would go a longer way than it ended up going. One thing I will say that's a positive, and that's not even anything having to do with the film, is that I think this movie has one of the most stunningly beautiful women I've seen in a long time. Lisa Haydon plays Vijay, the person she meets in Paris and becomes friends with. Let's just get this out of the way, she was a terrible actress. She was just horrendous. But she was quite gorgeous. And it's not like it hit you all at once how gorgeous she actually was. She got more and more beautiful the more you kept seeing her. It was something else. While her character was a little bit wild and out there, and as mentioned, she was terrible, but there's a certain something about the way she carries herself. She's got some great presence. Your eyes are immediately drawn to her no matter what scene she is in. She, quite frankly, overshadows Rani. Smartly enough, Rani leaves Paris to go to Amsterdam, so the female Vijay couldn't overshadow her anymore. Honestly, once Rani finds herself in Amsterdam, this is when the movie hits its "stride". There's some cute stuff there with Rani, staying at a hostel with 3 men, and how her conservative upbringing has made her weary of this situation and how her family would react. It's not good, but at least it's something. And, at the very least, Rani isn't overshadowed by her three roommates. Of course, Rani builds somewhat of an unbreakable bond with her three roommates in five days. It feels a little too quick to me, but that's how the movie presented it. There's also not much to the stuff in Amsterdam honestly. It's more of the same, Rani having a good time with her friends, smiling a lot and actually having us pretend that that's good storytelling. Look, this movie looks like it was a lot of fun to shoot. It must have been like a vacation for the majority of the actors, they have minimal stuff to do if you really think about it. It's an easy, breezy, light-comedy. Ok, but just because the characters are having fun does not mean that we are as well. I guess seeing the reaction among flixster users, at least scoring-wise, as there's one negative review, means that most people did enjoy it. I just don't see it to be honest. The film gives off the appearance of being fun and enjoyable. But that's all it is, an illusion. And it's a sweet film in parts, like I honestly believe the film meant well, but good intentions can only take you so far. I wouldn't say it's bad, I'd just say that there should've been more effort to tell a good story instead of relying, mostly, on stereotypical cliches. Kangana Ranaut is fine and Lisa Haydon is gorgeous, but there's nothing of substance to this film.
Jesse Ortega
Super Reviewer
Turned out to be of quite a different genre than what I was expecting. Even otherwise, I wasn't having any high expectations of enjoying it. Completed it within less than 1 hr. 15 min. of which there were hardly a very, very, very few entertaining moments.
familiar stranger
Super Reviewer
Queen Quotes
There are no approved quotes yet for this movie.