7 Seconds
(2005)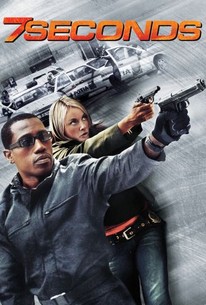 AUDIENCE SCORE
Critic Consensus: No consensus yet.
Movie Info
A thief finds one of his best friends is in jeopardy when a disastrous robbery turns out to yield the score of a lifetime in this action thriller. Jack Tolliver (Wesley Snipes) is a former Delta Force commando who has jumped to the wrong side of the law to take part in a massive heist intended to carry off the winnings of several major London casinos. However, the robbery goes haywire and one of Tolliver's partners is taken hostage by handful of brutal Russian gangsters. It seems the gangsters want something that Tolliver mistakenly grabbed during the foiled heist -- a case containing a rare painting by Van Gogh worth millions -- and Tolliver is forced to team up with rival Kelly Anders (Tamzin Outhwaite) to save both his friend and himself.
Critic Reviews for 7 Seconds
All Critics (3) | Fresh (1) | Rotten (2) | DVD (5)
Snipes is a far more charming character on screen than people give him credit for.
...Snipes' engaging and effective performance ensures that 7 Seconds generally remains watchable...


Audience Reviews for 7 Seconds
Unfortunately 7 Seconds was like so many other films. Just because you have a good idea on a plot doesn't mean you'll get a good movie if there is poor execution. Outside of Wesley Snipes, the rest of the cast was absolutely horrible. The acting was so bad that the few scenes in the film that were meant to deliver emotion fell flat on their faces. Even worse than the acting was the pathetic action sequences. The car chases were a joke and the gun fights and fist fights were even more ridiculous. Seeing random things blowing up in an unrealistic way doesn't do anyone any good. The only reason this movie is even watchable is because Snipes is still great and the story was mildly interesting.
Bruce Balsinde
A review of the action movie "7 Seconds" staring Wesley Snipes (I rated it 60%). A good solid action movie with cross and double-cross and double-double-cross. Good layering of story such that you are not really sure who is doing what to whom until the end. Lots of action. Lots of unexpected events (all caused by the various double-crosses). Snipes gives a solid performance and continues as one of my favorite action stars. Well worth the time and popcorn.
Jim Gateley
Fine cat-and-mouse robber in action, but I'm such a fan of Wesley Snipes in this film.
Dean McKenna
Super Reviewer
7 Seconds Quotes
There are no approved quotes yet for this movie.
Discussion Forum
Discuss 7 Seconds on our Movie forum!