7eventy 5ive (Dead Tone)
(2007)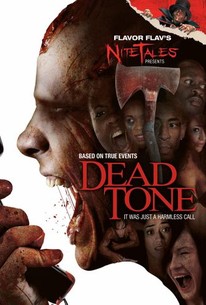 AUDIENCE SCORE
Critic Consensus: No consensus yet.
7eventy 5ive (Dead Tone) Photos
Movie Info
As another semester draws to a close at the University of Dreyskill, a simple game dreamt to help students avoid studying becomes a bloody battle for survival in this stalk-and-slash frightener from filmmaking duo Brian Hooks and Deon Taylor. Dreyskill may have a reputation as a prestigious private school, but a group of students known as "The Crew" are sick of studying for finals and looking to have a little fun. In order to pas the time, they create a game called "75." The rules of 75 are simple: the participant in the game calls a random telephone number and attempts to scare the party on the other end of the line for 75 seconds; should the recipient of the call laugh or hang up, the player loses, and the player with the best call emerges victorious. By the time exams are over, 75 has become a popular campus pastime among all the students, and one rich classmate invites the Crew to his massive mansion in the Colorado hills for a wild weekend of partying. But when one of the Crew accidentally calls the wrong person, the once-playful scares become all too real.
Critic Reviews for 7eventy 5ive (Dead Tone)
There are no critic reviews yet for 7eventy 5ive (Dead Tone). Keep checking Rotten Tomatoes for updates!
Audience Reviews for 7eventy 5ive (Dead Tone)
Hey, let's talk about the worst fucking horror movie I have ever seen in my life. This may be the most racist piece of shit I have ever laid my eyes on. (1) All the white people are extremely fucking stupid and die almost immediately. (2) By the time all of the surviving characters rally together in the middle of the movie, they elect to send 2/3 of the remaining white people to their death. (3) Then, it's like they realized that they made the white characters intentionally stupid, so they decided to have them throw racial slurs at the black characters, just to make us hate the white characters even more. (4) One of the white girls actually gets away, then runs BACK IN THE FUCKING HOUSE. (5) Then the writers thought, damn... we have way too many black people left, let's kill them all within a 5 minute span. (6) Typical white guy with parent issues turned serial killer. (7) Don't you fucking dare try to tell me that if you recline your seat up in your car too fast and push yourself against the steering wheel, that blood will spurt from your mouth, good try, fuckers. (8) You have a bowl of the party-goers keys on your wardrobe? Cool. Yours are there too? Why? Can't find yours? HOW? Oh, it's too dark to see? I call bullshit, I can see all of the keys you're shuffling around really fucking loud. (9) Cops show up at the very end to shoot the only remaining black guy, who wasn't the killer. (10) This review is riddled with spoilers.
Pete Honaker
½
I probably enjoyed this film way more than I should have. Dead Tone is never scary or even remotely original, but it does manage to be a relatively amusing and entertaining slasher film despite its predictability.
Al Miller
½
Creepy. Although the acting was bad, it still had its bloody\scary moments.
Jacob Palacio
Super Reviewer
7eventy 5ive (Dead Tone) Quotes
There are no approved quotes yet for this movie.
Discussion Forum
Discuss 7eventy 5ive (Dead Tone) on our Movie forum!