9/11 Press for Truth
(2006)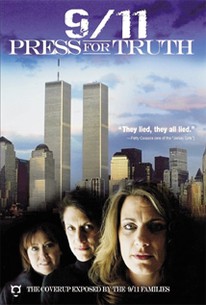 AUDIENCE SCORE
Critic Consensus: No consensus yet.
9/11 Press for Truth Photos
Movie Info
Amidst accusations that the White House stifled the investigation into the terrorist attacks of September 11, 2001, documentary filmmakers at Globalvision adapt author Paul Thompson's inflammatory expose The Terror Timeline into a film which follows a small group of the victim's families as they descend upon the nation's capitol in search of the truth. For the first time on camera, six of these families - including the so-called "Jersey Girls" - recall their arduous efforts to spark a detailed investigation, and the disappointment that followed when the 9/11 commission failed to offer adequate answers to their pressing questions. A closer look at buried stories, overlooked news clips, and government press conferences reveal a startling pattern of shaky truths, clever spin, and outright deception as filmmakers detail how the government's powerful opposition to the 9/11 Commission was eventually overcome due to the persistence of the 9/11 families, and how the Final Report filed failed to answer a vast majority of their pressing questions.
Rating:
NR
Genre:
,
Directed By:
In Theaters:
On DVD:
Runtime:
Critic Reviews for 9/11 Press for Truth
There are no critic reviews yet for 9/11 Press for Truth. Keep checking Rotten Tomatoes for updates!
Audience Reviews for 9/11 Press for Truth
The best 9/11 video I have yet seen. This does not venture down the road of supposition that so many Alex Jones-types do, but sticks to the facts. A lot to do with the "Jersey Girls" (who I only knew from them being bashed by "conservative" commentators - but have since learned they are not crazy women with agendas), but does not only focus them. This is the video I would recommend to anyone exploring the "Truth Movement."
D M
½
9/11: Press for Truth (1:25) Watch the entire movie on line for free!
http://www.911docs.net/911_press_for_truth.php

This movie tells the story of "The Jersey Girls" & Other 9/11 Victim Families as they press on to find out the truth about what really happened that tragic day. Paul Thompson, creator of "The 9/11 Timeline" is prominently featured as an investigator of facts and news reports in the main stream media. There's a lot of disturbing information and documentation that is verifiable in this film.

Ce film raconte l'histoire des ?Jersey Girls" et d?autres familles des victimes des attaques terrorists de 11/9/01. Ils pressent en avant pour découvrir la vérité au sujet de ce qui s?etait vraiment passé à ce jour tragique. Paul Thompson, créateur de "La Ligne de Temps de 11/9? est en évidence décrit en tant qu'investigateur des faits et des rapports de nouvelles dans les médias principaux de jet. Il y a des informations et des documentations inquiétantes qui est vérifiable en ce film.

From the official web site for this film we read this description:

?Following the attacks of September 11th, a small group of grieving families waged a tenacious battle against those who sought to bury the truth about the event?including, to their amazement, President Bush. In ?9/11 PRESS FOR TRUTH?, six of them, including three of the famous ?Jersey Girls?, tell for the first time the powerful story of how they took on the greatest powers in Washington?and won!?compelling an investigation, only to subsequently watch the 9/11 Commission fail in answering most of their questions."
Vic Sadot
9/11 Press for Truth Quotes
There are no approved quotes yet for this movie.