Atrocious
(2011)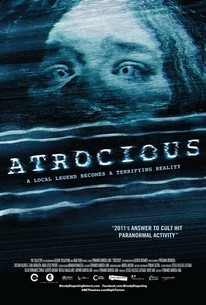 Movie Info
Atrocious is a gruesome, mind-bending thriller shot in a style reminiscent of The Blair Witch Project. The horror film excerpts found footage from a film reel recovered by Spanish police, documenting a family of five discovering the truth behind a dangerous urban legend. The 37 hours of found footage follow Cristian and July Quintanilla passing time at their summer home by investigating a terrifying and mysterious urban legend. As their investigation intensifies, strange occurrences in and around the house escalate rapidly, culminating finally in unspeakable atrocities. -- (C) Bloody Disgusting
Cast
News & Interviews for Atrocious
Critic Reviews for Atrocious
Audience Reviews for Atrocious
½
Some really intense visual queues to get behind, to be sure, but apart from that there was nothing much to love. The real problem however, lies in Atrocious' being Spanish. Now I'm not one of those types that will refuse to watch a film simply because it isn't in English, chuck me some subtitles or a dialogue-light premise and we're good to go. Unfortunately, Found Footage Horror and poor audio dubbing make strange bedfellows to say the least. The end result is that there's absolutely no suspension of disbelief to be had, which (apart from being cheap) is sort of Found Footage's whole thing. I'd quite like to hear from someone who *does* speak Spanish, and manages to find a copy of the film in its original language, to see what they thought of it. Unfortunately, I can only respond based on my own personal experience, which was pretty poor.
½
** out of **** With "Atrocious", the Spaniards yet again jump on the bandwagon that is the Found Footage sub-genre of horror cinema. Some notable instances in which they've done this include "REC", its sequel, and a few more that I cannot name, for I have not seen them, nor can I properly identify them at the moment. Everyone wants in on this gimmick, which can't exactly be called a new one; given that "The Blair Witch Project" and even "Cannibal Holocaust" piqued the interest of penniless filmmakers worldwide some time ago. Mind you, it was probably "Paranormal Activity" that revived the gimmickry that is found footage, but we'll give credit to all who have earned it. A family is murdered and found mutilated in the comfort of their summer home in Sitges, Spain. The police find a pair of high-tech video cameras at the scene. The footage that we see is supposedly a compilation of what was recovered from the cameras. We see all that we need to see, essentially. And what we see is this: a brother and a sister - Cristian and July - planning on borrowing their friend's video recording technology (hence, the camera) during their Easter visit to that house in Sitges. They are intrigued by a local legend (and so was I), which told of a woman dressed in red who disappeared into the hedge maze that lies right outside the premises, or perhaps more accurately, right on the premises, although it just takes the will to walk through a gate to get from the rocky driveway to the grassy grove. It's said that this very woman that belongs to the legend still resides in the woods, but as a ghost; and she haunts those very grounds. The kids are hoping to capture some footage for, I dunno, shits and giggles sometime down the road; perhaps they have some Youtube show (or something like that) where they would present their ghastly findings. The opening of the film sort of implies something along the lines of that; although I can't be too sure. Anyways, that's what they plan to do; and at that, we can get going to the long, winding road that leads to the juicy stuff; the ghostly goods. If you go into this movie expecting for the creepy images to pile up almost instantly, you're not in luck, because this flick takes its precious little time at pretty much everything. The film is 75 minutes long, and the first 60 is devoted almost entirely to build up. It's only in the last 20 minutes that we get some mildly satisfying footage, although the film understands one thing: that it's best to show as little as you possibly can when you want your movie to truly scare an experienced audience. For the final 20, it's fairly intense, and suitably so; but also painfully derivative. So is the rest of the movie. Look, I can appreciate the intent - and the film doesn't live up to its title whatsoever - but it offers nothing new (or particularly entertaining) as far as its genre, and sub-genre, go. There are indeed prolonged, entertaining stretches along the way - and if you know me, then you'll know that I love me some good suspense - but by the end, the whole thing has become one big cop out. They say a twisty finale can make or break a movie; in this case, it breaks and leaves a mess not well-worth cleaning up. If "Atrocious" wants nothing more than to be a minor addition to the Found Footage trend that presents us with a few genuinely creepy moments and some shockingly convincing acting/directing; then the mission has been accomplished, and the film is fine. You know what; no matter what, I think it's just fine overall. I have no problem with it, and I admire certain aspects of the movie, but all-in-all, there just wasn't enough life in this old horse. Instead of being off-beat and different, it's a one-note, one-pulse horror movie; rendering it a rather dull and unimpressive affair. Still, I do think it's worth seeing so long as you can appreciate Found Footage type films, but just go in knowing that it won't keep you up at night, nor will anything about it truly stick with you. I had problems with the pacing, the uninteresting characters, and the lack of ambition. But alas, "Atrocious" doesn't seem to be an appropriate name for the final product; "Mediocrity" might have been just a little bit better.
Ryan Marshall
Super Reviewer
½
I love 'found footage' films! From the beginning I really feel like I'm just watching some random recording, instead of the fact that it's a movie. Knowing spanish really helped me appreciate the movie much more because when it comes to movies like this you take your eyes off the action and you miss everything in that one second. The acting was generally natural, just very few dialogues felt forced. In terms of the plot, well, not what I expected - but in a bad way. The film builds up tension, keeps you guessing and leaves everything to your imagination but ultimately reaches that point of frustration. It's all revealed with a twist that really didn't do the movie much justice - Why didn't it happen the last time they were there? Why the urban legend? WHY? Also, I don't know if the point of the main character (Christian) was to be jerk but he really had me pissed through the whole movie.
Chris Hernandez
Super Reviewer
Atrocious Quotes
There are no approved quotes yet for this movie.