Ferocious Planet
(2011)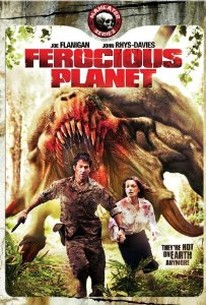 AUDIENCE SCORE
Critic Consensus: No consensus yet.
Movie Info
A team of researchers and observers are plunged into a terrifying alternate dimension filled with horrendous creatures when a demonstration by a respected physicist goes horribly awry. The device was supposed to allow humans to gain a glimpse into the hidden worlds all around us. But when it malfunctions, the survivors of the incident go where no human before them ever has. Now, in order to get back to where they belong, they must avoid becoming prey to the creatures that are eager to get their first taste of human flesh.
Critic Reviews for Ferocious Planet
All Critics (2) | Fresh (1) | Rotten (1) | DVD (1)
Ferocious Planet isn't trying to be a bad movie like the Asylum films and Roger Corman movies do. It's just low budget and exists in that world.
It's probably a case of lowered expectations - this IS after all a Syfy channel movie! - but Ferocious Planet is actually (dare we say it?) okay-ish . . .
Audience Reviews for Ferocious Planet
The last film that is months overdue for a request. 7 or 8 months I believe. Once again it is an Irukandji film. Acting/characters: One of my first thoughts was 'ooh, it has Gimli in it! What fun! But I'm just gonna go ahead and say it, he has a total of about 3 minutes or so of screen time but he has high billing for the film. That right off the bat tells you what kind of film it is. The characters are all what you'd expect from a film like this: stupid stereotypes. every last one of them. And they die in the order they're supposed to. The acting fit the film. It was pretty bad. Not as horrible as I expected but still pretty bad. But everyone in this film was a complete moron. Every. Last. One. Some just less so than others. basically par for the course for a film like this one. 1/10 Plot: I've seen plots like this before: race against time before something bad happens. It played out the same way too. I must admit that it was rather entertaining actually. Nothing awesome but it kept my interest. But it was a bit too long. It was bout 90 minutes but I felt that that was a bit too much. Funny how some movies can make 90 minutes feel too long. I just felt myself wanting it to end. It was a little repetitive and its tricks to add suspense just didn't work because you knew how it was going to end anyways. But I must give it some credit, it was entertaining for the most part. 4/10 Screenplay: Just terrible, absolutely terrible. It's a SyFy movie. They churn them out so fast they don't even bother with the screenplay. Nothing else to say really. 0/10 Likableness: Despite its innumerable glaring flaws I kinda enjoyed it. Mostly. Would I watch it again? Sure with a group of friends. But otherwise no. Would I suggest this one to someone who likes stupid cheesy films like this one? Not really actually. If you want that watch Wyvern. That one was much better. Am I glad I watched it? Sure. It was far from the worst film I have ever seen. It was merely entertaining and overly cheesy but really bad. And the special effects were horrendous. Absolutely horrendous. They could have done better. 3/10 Final Score: 8/40 20% Tomatometer rating: N/A Tomatometer rating if my review was added: 0% No trivia for this movie either. sad day.
Lord Naseby
Super Reviewer
Ferocious Planet Quotes
There are no approved quotes yet for this movie.