Krylya (Wings)
(1966)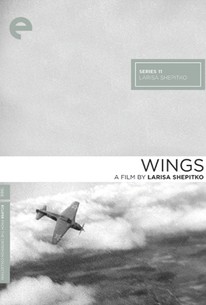 AUDIENCE SCORE
Critic Consensus: No consensus yet.
Movie Info
The director of this film, Larisa Shepitko, was the wife of the distinguished director Elem Klimov and a very promising director herself. Based on a true story, Krylya tells of the efforts of a famous female fighter pilot from the World War II era to make a life for herself in the postwar era. At 42, the present pales before her memories of the past, and of her true love, now long dead. She is unable to come to terms with her past nor with the present, in which she is the director of a high school and the mother of an adoptive daughter. Her attempts to compensate for her distraction all lie in the direction of appearing authoritative, but the students and her daughter, with the unerring instincts of the young, distrust and despise her. In her distress, she is forced even more deeply into reliving her memories of the only time in which she was truly alive, seeking some kind of answer or resolution. ~ Clarke Fountain, Rovi
Critic Reviews for Krylya (Wings)
Audience Reviews for Krylya (Wings)
Larisa Shepitko may not quite have the distinguishing appeal of her peers such as Andrei Tarkovsky due to her tragic death in a car accident. She left behind only four works total, the only two features were this film and "The Ascent" and both show the talent of a Director unfortunately cut short before she could flourish. "Wings" is an artistic and beautiful filmed story of a female fighter pilot that now has a career as a headmistress and constantly recounts her glory days. The film captures the loneliness of an individual and the constant attempt to escape reality into memories of the past. Throughout the film we also get a stunning glimpse of the Soviet Union during a bygone era and also the treatment of and segregation of women at the time. The film is based on a true story and is a wonderful film that lingers on the environment surrounding the ex-pilot and is wonderfully rendered in B&W film. Anyone who wants a beautiful, touching and deeply personal film should give "Wings" a watch and see the Shepitko's small but gorgeous body of works.
Chris Browning
Super Reviewer
½
"Wings" is a haunting and incisive movie about the role of women, contrary to propaganda, in the Soviet Union at the time the film was made in 1966. That having been said, it starts out in the last place you would expect, in a tailor shop where a customer is being fitted for a suit. It might come as a surprise that the customer is Nadya(Maya Bulgakova), a woman who cuts an androgynous and stylish figure in middle age. Even with a degree of fame from her service in the Great Patriotic War and current status as a people's deputy and school headmistress, her life still feels somewhat incomplete.(Possibly proving that the only good time to be an exhibit in a museum is as a member of a sports hall of fame) She is semi-estranged from her adopted daughter Tanya(Zhanna Bolotova) and belatedly meets her new son-in-law Igor(Vladimir Gorelov) who is quite a bit older than Tanya. Regardless, neither women is allowed into the men's intellectual discussions. That is only part of how Nadya's life is restricted in a country where a woman dining out alone is a daring act. It is no wonder that she looks back fondly on her days as a fighter pilot(even taking along the neighbor's children to an airfield when they are spending a day at the beach) as the time when she was the most free. So, it is ironic that when she felt the most alive was when she was surrounded by death. (Sarah Waters invokes similar emotions in her novel, "The Night Watch").
Krylya (Wings) Quotes
There are no approved quotes yet for this movie.