Sound of Noise
(2012)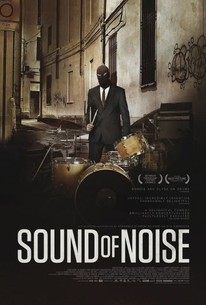 Movie Info
Police officer Amadeus Warnebring was born into a musical family with a long history of famous musicians. Ironically, he hates music. His life is thrown into chaos when a band of crazy musicians decides to perform a musical apocalypse using the city as their orchestra... Reluctantly, Warnebring embarks on his first musical investigation... -- (C) Official Site
News & Interviews for Sound of Noise
Critic Reviews for Sound of Noise
Audience Reviews for Sound of Noise
½
In "Sound of Noise," Sanna(Sanna Persson) drives a stolen van to the beat of a different drummer, Magnus(Magnus Borjeson). They are tired of the old routine which is getting them nowhere and decide on something big, namely Magnus' concerto, 'Music for One City and Six Drummers' before recruiting four other frustrated musicians. Speaking of the authorities, detective Amadeus Warnebring(Bengt Nilsson) is hot on their trail since ironically being tone deaf in a family full of musicians means he can tell the difference between the sounds of a metronome and a ticking bomb. To put it simply, "Sound of Noise" is a musical caper movie. Now, there is something you do not see every day done in a rather atypical fashion. That's true even if it just comes down to artists wanting their work to matter, and not to do it just for the money. Specifically, this involves drummers who are expected to keep the rhythm of the music going while secretly wanting to do a twenty minute solo which you would not find with flutists unless of course it's Jethro Tull you're talking about. As far as Detective Warnebring goes, I guess I see where he fits into here, even though I honestly don't get how the silence is supposed to work.
Essentially, "Sound of Noise" is an average movie blessed with a good gimmick. This Swedish comedy follows two terrorist musicians who recruit four oddball drummers to help perform a city-wide, avant-garde "piece." The renegade composition spans four movements, each set at a different location (the first is an operating room), as the trespassing ensemble exploits onsite tools to craft complex, percussive grooves. In other words, this film is a must-see for "Stomp" fans. The group is pursued by the ironically named Amadeus (Bengt Nilsson), a mousy, insecure detective whose life just happens to have a major musical issue -- his genius brother is a world-renowned conductor, while he himself is frustratingly tone-deaf. His handicap is depicted in a strange, surreal way -- apparently, whenever a neighborhood item is incorporated into the percussion troupe's mischief, he permanently loses the ability to hear it. This storytelling element fails to lead anywhere and isn't as evocative as the filmmakers hope. Another problem is that the pivotal guerrilla performances grow larger and larger in scope yet become less and less interesting as music. If you can't spare the 102 minutes, just look up the musical scenes on YouTube. You won't be missing much.
Eric Broome
Super Reviewer
½
A music-hating, tone deaf detective from a family of musical prodigies tracks down a gang of musical terrorists staging disruptive performances across Stockholm. If David Lynch directed the Swedish cast of STOMP in an action-comedy, I think it would go a little something like this...
Sound of Noise Quotes
There are no approved quotes yet for this movie.