A Foreign Affair
(2004)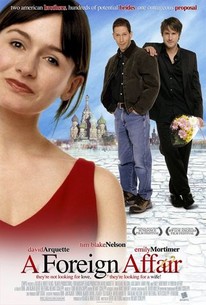 AUDIENCE SCORE
Critic Consensus: No consensus yet.
Movie Info
When their Mom dies, farmboys Jake and Josh realize they are incapable of cooking and cleaning, so decide to go to Russia to buy a wife. Older brother Jake plans the trip with military precision but Josh is like a kid in a candy store. Josh starts spending all their hard-earned cash on drinks, parties and expensive fur coats for his dates, whereas an increasingly frustrated Jake is finding it impossible to explain "two husbands and no sex" to bewildered Russian women. Jake enlists the help of an English journalist, to be his translator; trouble is that Angela is just after a story.
Audience Reviews for A Foreign Affair
You and your brother are looking for what? It's got a little bit of style and a little bit of humor, but is that really enough to make this quirky romantic comedy worth watching? The Story: It's simple, two brothers go to Russia on a singles tour in order to find a wife to do their housework back home on the farm. It moves along at a decent pace and has some funny moments, and even some good dramatic moments, but the story itself just doesn't go very far. It looks nice and has a lot of interesting shots, but it hardly makes up for the little bit of story development. The Cast: Tim Blake Nelson, David Arquette, Emily Mortimer... Tim Blake Nelson is Jake Adams, a little anal retentive, and a jerk to the highest degree, but somewhere underneath his icy exterior lies a warm heart. You'll hate him for most of the film, and he's a character that everyone's met before, but he gives a solid performance. David Arquette is Josh Adams, Jakes brother, he's shy, nervous, and loveable. It's about on par with his performance in the Alarmist, it's not better, it's not worse. Emily Mortimer is Angela Beck, a reporter making a documentary about the whole singles tour thing. She's an interesting character but her character development is minimal. You get a small glimpse into her life, making her seem like an incomplete character. A decent cast for a decent film. One to Five Scale: 3 It looks good, and if it was a little more fleshed out than it could be a four out of five instead of a three. Worth a possible rental, but not worth a purchase. Tyler
Tyler Martinez
The exact same film as the "2 Brothers and a Bride." Just with a different title.
½
Not bad, filmed on location in Russia is cool and it is neat to see how Romance tours such as the one the brothers in this moive go on are put together. Plus, Emily Mortimer is in it and that is an easy way to get my attention.
Sean Thurmond
A Foreign Affair Quotes
There are no approved quotes yet for this movie.
Discussion Forum
Discuss A Foreign Affair on our Movie forum!