A Galaxy Far, Far Away
(2001)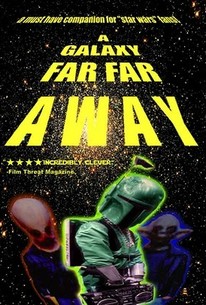 A Galaxy Far, Far Away Videos
A Galaxy Far, Far Away Photos
Movie Info
No other series of films has achieved greater commercial success, or captured the attention of as many viewers, as Star Wars, its two sequels, and the continuing series of prequels. Filmmaker Tariq Jalil had long been fascinated by the passionate following the films inspired, and when the publicity machine began rolling for the release of Star Wars: Episode I -- The Phantom Menace in 1999, he assembled a camera crew to document the fans who waited in line (some for as long as a month and a half) in order to be among the first to see the long-awaited film on its first day of release. Along the way, Jalil also interviewed a number of other passionate Star Wars devotees, and the documentary A Galaxy Far, Far Away examines the cultural phenomenon of Star Wars fandom, from celebrities who stop by to see the film on opening weekend (including Samuel L. Jackson, Joe Pesci, Meat Loaf, and Roger Corman) to Star Wars-inspired rapper Jam Master Jedi and a number of rabid toy collectors who nearly riot while trying to get their hands on Episode I action figures.
Rating:
NR
Genre:
, , ,
Directed By:
Written By:
In Theaters:
On DVD:
Runtime:
Studio:
Critic Reviews for A Galaxy Far, Far Away
All Critics (7) | Fresh (4) | Rotten (3) | DVD (2)

Triumph the Insult Comic Dog did a far better job - and actually a more sensitive job - with the fans waiting outside for the start of Episode II.

To the film's credit its topic supplies a wealth of material, philosophy, and entertainment -- and victim to it, A Galaxy Far Far Away meanders in the wide, overwhelming scope of its course.

Not Coming to a Theater Near You
Audience Reviews for A Galaxy Far, Far Away
½
Im not a Star Wars fan or a Star Trek fan but I watched the Trekkies documentaries & I watched this 1.In my opinion, A Galaxy Far Far Away is just as good as Trekkies.Both were entertaining & interesting to watch.I think if you're a fan of Star Trek you'll still like this documentary & vice versa.My only thing is there is just no way I'd camp outside for 37-42 waiting to see a movie premiere or be the 1st in line to get a toy
Brody Manson
Super Reviewer
½
We All Have Our Passions I said, when [i]Phantom Menace[/i] came out, that if someone saw it without having seen the original trilogy, that person wouldn't think it was so terrible as the rest of us did. Yes, they would have found Jar-Jar, as someone here puts it, the most annoying character in the history of film. Because he was basically there to sell toys, and everyone knew it. (If you actually want to see a likable Jar-Jar Binks, go to http://www.darthsanddroids.net/episodes/0001.html and read through the first at this point about half. When played by an eight-year-old, Jar-Jar works. Especially compared to most of the rest of that group.) And, yes, the trilogy got progressively worse to the point of terrible. And, no, I don't own them or plan to. Graham's not sure how much if any he's seen of II or III, and reading [i]Darths & Droids[/i] reminded me how little I remember of II at all. But yeah. I do remember, though, the passion with which we awaited that first prequel. Lucas had talked about it for years. Okay, the original [i]Star Wars[/i] wasn't called Episode IV until [i]Empire[/i] came out, but still. (And, yes, George, you did say you would make sequels. Don't lie to the people.) Everyone on the entire internet was talking about it for years before they were released. Even moderate fans like me got involved in the discussions. And some people decided they needed to be the very first people to see it, so they camped for something like six weeks in front of theatres, I guess once they found out the movie was playing there, to be there the second the ticket counter opened. This movie is really about those people, not people who are just mild fans. I mean, there's a guy in line who quit his job (admittedly at McDonald's) to sit there, and goodness knows what the others put on hold for those tickets. It makes you believe they didn't have anything which needed it. It's been years since I've seen [i]Trekkies[/i], the similarly-themed movie about, well, [i]Star Trek[/i] fans, but I remember the focus's being broader. Here, we aren't really looking much at the broader fandom. The man making the film, Tariq Jalil, claims to be interested in getting to the bottom of this particular fan group, but he isn't going to by staying with these people. The man who named his son Anakin? Not where you want to start. It also feeds into the stereotype that every fan can, let's face it, drop everything and spend forty-odd days camped on Hollywood Boulevard, waiting in line to see a movie. Not every fan--not even every serious fan--goes to conventions dressed as Gangsta Boba Fett. (None of those last three words are in my spellcheck.) Not every fan even wants to. Movies like this can honour or demean their target group. I think Jalil thinks he's honouring these fans, but he's wrong. It's great to see their youthful enthusiasm--even when "youth" is long gone in them--but it doesn't help to intercut scenes of people nearly rioting over food in Kosovo with people nearly rioting over cheap toys in a Toys-backwards-R-Us store. Several people even comment on it, but we're expected to shrug and kind of go on with things. Another person even tries to justify it--well, after all, movies take people out of their lives, and that can be a good thing, especially if you're depressed. Which leaves out that the movie ends, and the problems are still there. Not to mention that some people get all weird and obsessive about the idea of leaving the world behind when the movie ends. Toward the end, someone says that you can't criticize the movie because it's George Lucas's vision, not yours. Which, if you think about it, completely renders everything I've written over the last few years worthless. And that's why he's wrong--what I get out of a movie may not be what the creators expected me to or wanted me to, but that doesn't invalidate my experience, and it's certainly possible to have things which are objectively bad. Like Jar-Jar. And the fact is, I was waiting through the whole of the very short run time for the theatre doors to open and the dealing with the not-good of the movie to begin, if all we were really going to talk about was the line-waiters. What we seemed to get was a few straw-graspers ("Well, it would be good if you were a little kid, I guess"), a few people who pretty much did love it, a couple of people who think the experience was worth more than the movie, and the guy telling us that what we think doesn't matter. Which is kind of an arrogant message to put at the end of your film.
Edith Nelson
I think I would've liked this a bit more had the film-maker not seemed to have a slightly snarky tone towards his subject matter at several points during the film. I understand not 'getting' people's obsessions, but to make a bit of fun of the very subject you've decided to do a documentary on just seems like a dick move to me. Also found the decision to end on several people's sad life stories vs. their escapism into Star Wars to be an odd editing decision. It leaves the viewer with a slightly depressed feeling in spite of the narration telling us how great it is that these people find escapism in the films. Worth a look, but if you're a huge fan I could see this actually irritating you.
Bill Bryant
A Galaxy Far, Far Away Quotes
There are no approved quotes yet for this movie.
Discussion Forum
Discuss A Galaxy Far, Far Away on our Movie forum!