A Hatful of Rain
(1957)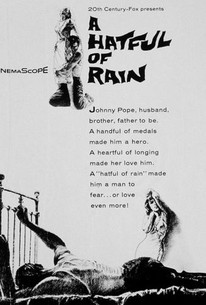 AUDIENCE SCORE
Critic Consensus: No consensus yet.
Movie Info
In this film, based on the stage play by Michael V. Gazzo, Don Murray has managed to keep his drug addiction secret from his pregnant wife and his boorish father, but Murray's brother knows the truth. Murray hits up Franciosa for money to support his habit and his addiction deepens.
Rating:
NR
Genre:
,
Directed By:
Written By:
In Theaters:
Runtime:
Studio:
20th Century Fox Film Corporation
Critic Reviews for A Hatful of Rain
All Critics (1) | Fresh (1) | Rotten (0)
Anthony Franciosa received Oscar nomination for Zinnemman's realistic drama about drug addiction, which was still a taboo issue in Hollywood of the 1950s.

Audience Reviews for A Hatful of Rain
"A Hatful of Rain" starts with John Pope(Lloyd Nolan) paying a visit to his son Johnny(Don Murray) and pregnant daughter-in-law Celia(Eva Marie Saint) in New York City. However, this is not a purely social call, as he is inquiring about the $2,500 that his other son Polo(Anthony Franciosa), a bouncer, promised him that he needs for a nightclub he is planning on opening back in Florida. But Polo no longer has the money. And neither does Johnny what with his being in debt to a shady customer like Mother(Henry Silva) and just recently being secretly unemployed. To its credit, "A Hatful of Rain" seeks to be an early serious look at drug addiction, while also being very much ahead of the curve in dramatizing the life of a soldier who came back from the war an addict. And as much as the movie makes great use of location shooting on the Lower East Side, it ends up clashing with the story's stage roots, very much in evidence. At the same time, "A Hatful of Rain" suffers from a clear lack of focus. That is quite a dubious achievement when you notice that there are only four principal characters in the movie and it's supposed to be about Johnny's addiction. Instead there are tons of daddy issues...which are Polo's. That's not to mention a rather shaky love triangle going on at the same time.
Don't understand why there isn't more love for this. I thought it was a good groundbreaking film on the topic of addiction right up there with the Lost Weekend. I'm not as familiar with most of these actors but their internal struggles are brought to the screen with great vigor.
John Ballantine
Super Reviewer
½
He worked and he worked until he got a hat full of rain. A veteran has what seems to be a perfect life. He has a proud father, hard working brother, and a beautiful wife; however, his addiction to drugs threatens to ruin everything. As each family member discovers the veteran's issue, they handle the news differently. Can the veteran handle his family's reaction to the discovery? "I know how you feel about me and it's embarrassing." Fred Zinnemann, director of Julia, The Day of the Jackal, A Man for All Seasons, Behold A Pale Horse, High Noon, From Here to Eternity, and Act of Violence, delivers A Hatful of Rain. The storyline for this picture is fairly straightforward and generic for the genre. The content is mediocre but the acting is marvelous. The cast includes Don Murray, Eva Marie Saint, Anthony Franciosa, and William Hickey. "We've all got scars." My wife discovered this movie while flicking through the channels and decided to DVR it since it starred Eva Marie Saint (who is an underrated actress from this era). She delivered a solid performance but the overall film was just above average. There wasn't anything too intense or surprising about this film. This is a slightly above drama. "I've got chicken for the horse." Grade: C+/B- (6.5)
Kevin Robbins
A Hatful of Rain Quotes
There are no approved quotes yet for this movie.