A Story of Floating Weeds (Ukikusa monogatari)
(1934)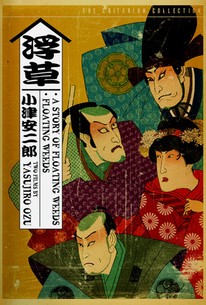 AUDIENCE SCORE
Critic Consensus: No consensus yet.
Movie Info
One of Yasujiro Ozu's early masterworks, it concerns an actor, Kihachi (Takeshi Sakomoto) leading a struggling theater troupe who returns to the provincial town where he fathered a child years before. He seeks out his son, now a young man, and the woman who bore him, spending a great deal of time with them. To avoid angering his mistress Otaka (Rieko Yagumo), and to protect himself, he pretends to the young man that he is his uncle. Nonetheless, Otaka eventually learns the truth and persuades one of the company's ingénues to seduce the boy, hoping to hurt him and his father indirectly. Her plan backfires when the two fall in love, and the troupe, which is already on the brink of failure, is forced to disband. At length, Kihachi realizes he must move on and returns to Otaka. ~ Michael Costello, Rovi
Rating:
NR
Genre:
, ,
Directed By:
In Theaters:
On DVD:
Runtime:
Studio:
Criterion Collection
Cast
Critic Reviews for A Story of Floating Weeds (Ukikusa monogatari)
All Critics (3) | Fresh (3) | Rotten (0) | DVD (1)

Chicago Reader
Top Critic
It's basically a soap-opera story that Ozu enriches with great camera work and characterizations, making it more special than it should have been.

Ozus' World Movie Reviews

while outside of Ozu's typical middle-class setting, these films are perfect encapsulations of this lyrical filmmaker's brilliant career


Audience Reviews for A Story of Floating Weeds (Ukikusa monogatari)
A silent effort, with Ozu employing minimalism throughout. A static camera rests the emotions of the film with the actor's facial performances. And it works.
Stephen Huss
My son belongs to a better world than yours. A traveling show arrives in a small town to deliver a performance. The lead actor meets a former lover in the town that has a young boy. He discovers the young boy is his son which stirs a string of emotions for the woman and boy that makes him question his direction in life. How can he go on living his life in a traveling show with his girlfriend? "Let him go on thinking his father is dead." "He wouldn't want a no good father like me." Yasujiro Ozu, director of Tokyo Story, Tokyo Twilight, Floating Weeds, An Autumn Afternoon, Early Summer, and An Inn in Tokyo, delivers A Story of Floating Weeds. The storyline for this picture is mesmerizing and reminded me of Kurosawa's Ikiru. The main character, which is torn about his direction in life, was fascinating, well delivered and well portrayed. The acting was elegant and perfect for the content. The cast includes Takeshi Sakamoto, Choko Iida, Koji Mitsui, and Rieko Yaqumo. "Another show is coming." I actually saw these films out of order (Floating Weed and A Story of Floating Weeds). This silent picture did a great job of depicting the main character's conflict with himself and his outlook on life. I strongly recommend giving this picture a shot if you're a fan of character studies. Grade: A
Kevin Robbins
The above rating is for "A Story of Floating Weeds"(1934), Not for the remake, "Floating Weeds."(1959) [font=Century Gothic][color=darkgreen]"A Story of Floating Weeds" is a silent movie from Japan directed by Yasujiro Ozu. It is a superb film that centers on a traveling theatrical troupe that returns to a small village after an absence of a few years. The lead actor has a secret from his fellow actors - he fathered a son some years before...what follows is a powerful, yet subtly emotional film about the paths we choose in life.[/color][/font]
Discussion Forum
Discuss A Story of Floating Weeds (Ukikusa monogatari) on our Movie forum!
News & Features