A Woman Rebels
(1936)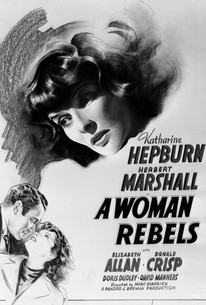 AUDIENCE SCORE
Critic Consensus: No consensus yet.
Movie Info
Based on a novel by Netta Syrett, A Woman Rebels is the story of Pamela Thistlewaite (Katharine Hepburn), whose mission in life is to defy the restrictive and often hypocritical conventions of Victorian England. Refusing to conform to the status quo, Pamela lives alone, reads, and says whatever she wishes, and even -- horrors! -- takes a job. Her romantic dalliance with young Gerald (Van Heflin, in his film debut) results in an illegitimate daughter (Doris Dudley), whom Pamela raises as her niece until she decides it's high time to tell the truth in all matters. Faithful suitor Thomas Lane (Herbert Marshall) offers to make an "honest woman" of her, but Pamela refuses until she can stand on her own two feet financially. Fiercely independent to the last, she becomes the crusading editor of a pioneering pro-feminist magazine and an early champion of Women's Suffrage. It was hoped by RKO Radio that The Woman Rebels would restore the popularity of Katharine Hepburn, which thanks to a series of expensive failures had been flagging for the past two years. Though the film turned out to be a box-office loser (it posted a $220,000 deficit), in retrospect it can be regarded as an artistic triumph -- and a remarkably timely one at that.
Critic Reviews for A Woman Rebels
There are no critic reviews yet for A Woman Rebels. Keep checking Rotten Tomatoes for updates!
Audience Reviews for A Woman Rebels
½
A Woman Rebels (1936) -- [5.0] -- It presents a peek at the feminist persona for which Katharine Hepburn would later become famous, but "A Woman Rebels" is a little too melodramatic for my taste, and its narrative loses steam in the last few reels. With the Hays Code firmly in place, the script tiptoes around subjects like Hepburn's illegitimate baby and her sister's unfortunate miscarriage, but you can piece two and two together. The Code actually makes these less exploited aspects of the story among the more interesting. Other parts of the movie, like Donald Crisp's over-the-top chauvenistic father character and Hepburn's questionable resolve to raise her daughter as her niece, are far more difficult to swallow.
Scott Schirmer
This movie was a bit preachy on the topic of women's lib, but I thought it was fascinating how advanced the movement was becoming, even back in 1936 when the movie was released. Katharine Hepburn plays a woman who was raised by a cold hearted father, which urges her into the arms of a rebelious character. She consequently gets pregnant out of wed-lock and tries to hide this fact by claiming the child is that of her deceased sister who happened to also be pregnant at the time she died. She goes through life as a single parent, and supporting herself. She has a hard time finding a company that will employ a woman but eventually begins a successful career as a writer for a women's magazine, addressing the issue of gender equality. She refuses to marry for fear her secret might come out and cause a scandal for the man she loves. She sacrifices her own happiness to protect the people she cares most about and becomes a popular icon in the process.
Jakki Jelene
A Woman Rebels Quotes
There are no approved quotes yet for this movie.
Discussion Forum
Discuss A Woman Rebels on our Movie forum!