A Band Called Death
(2013)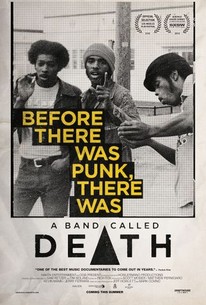 TOMATOMETER
AUDIENCE SCORE
Critic Consensus: A Band Called Death is not only a fascinating portrait of a pioneering rock group, but also a tribute to family ties and perseverance in the face of hardship.
A Band Called Death Videos
A Band Called Death Photos
Movie Info
Before Bad Brains, the Sex Pistols or even the Ramones, there was a band called Death. Punk before punk existed, three teenage brothers in the early '70s formed a band in their spare bedroom, began playing a few local gigs and even pressed a single in the hopes of getting signed. But this was the era of Motown and emerging disco. Record companies found Death's music - and band name - too intimidating, and the group were never given a fair shot, disbanding before they even completed one album. Equal parts electrifying rockumentary and epic family love story, A Band Called Death chronicles the incredible fairy-tale journey of what happened almost three decades later, when a dusty 1974 demo tape made its way out of the attic and found an audience several generations younger. Playing music impossibly ahead of its time, Death is now being credited as the first black punk band (hell...the first punk band!), and are finally receiving their long overdue recognition as true rock pioneers. (c) Drafthouse
News & Interviews for A Band Called Death
Critic Reviews for A Band Called Death
Audience Reviews for A Band Called Death
½
Or A Film Called Death... How appropriate for this film about the near-forgotten punk rock band, Death, that the entire film is haunted by death. It was something I wasn't really expecting. I was expecting a pretty straight forward music documentary about a band that time nearly forgot, like Searching for Sugarman or Big Star: Nothing Can Hurt Me, but what I got out of a Band Called Death is a movie about death and spirituality. And the result is a film that is better than either of the other films mentioned. It starts off like Big Star, a film about a band that's future looked incredibly promising, but how its success was tragically short-lived. The third act is similar to Searching for Sugarman, a film about how the songs of this band resurfaced years after their inception. But what sets this film apart is the middle section about the death of one of the founding members of the band, who was also the brother to the other two members. It becomes this tragic story about how when dreams die, it slowly kills a part of a person. And how despair can only exist when hope is alive. The film spends a lot of time on pondering these issues through the story of David, and I found myself incredibly moved by this story. It really gives the film an edge that typical music documentaries don't have. If you're a fan of 70s rock, you need to see this film, and even if you're not, do yourself a favor and see this movie. Even if you have to get through the first 30 minutes (which I love, but you may not), the middle section of the film is emotionally powerful.
Nathan Martin
½
It's a documentary about the forgotten punk rock band 'Death', but I dug how it also told the story a close nit family & their long & intimate relationship with music
Gordon Briggs
½
The loveable warmth with which "A Band Called Death" paints the titular proto-punk rockers is both the film's greatest strength and its greatest weakness. The Hackney brothers are charming and wonderful and listening to them tell stories from their youth feels like hearing from an old friend. On the other hand, their deceased brother and de-facto leader David is portrayed in such a sanitized manner that the whole thing ends up feeling a bit sugarcoated. Even David's wife barely registers as a source of insight, and it feels like we're missing the big picture as the ugly stuff like alcoholism and depression gets mere lip service in favor of highlighting David's almost prophetic wisdom and talent. Still, the story of the Hackney brothers and their resurgence is quite remarkable and makes for an entertaining and uplifting documentary.
Trevor Downs-Robertson
A Band Called Death Quotes
There are no approved quotes yet for this movie.
Discussion Forum
Discuss A Band Called Death on our Movie forum!