A Certain Kind of Death
(2003)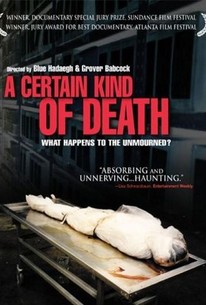 A Certain Kind of Death Photos
Movie Info
While death is an eventuality we all must face, not everyone makes plans for their funeral arrangements before they pass on, and some people, left with no family and meager financial resources, simply don't have the money to make burial plans in advance. Others die in a manner that makes them difficult to identify, while the remains of a few are simply never claimed by family or friends. Documentary filmmakers Grover Babcock and Blue Hadaegh have taken a look at this little-examined side of the American way of death, and A Certain Kind of Death looks at the people in Los Angeles whose job is to deal with such matters -- police officers, morgue officials, and others who deal with the remains of the unknown or unwanted and explain the protocols of their work. A Certain Kind of Death was screened in competition at the 2003 Sundance Film Festival.
Rating:
NR
Genre:
, ,
Directed By:
In Theaters:
On DVD:
Runtime:
Studio:
New Box
Critic Reviews for A Certain Kind of Death
Audience Reviews for A Certain Kind of Death
½
Obviously low budget, but with great pacing and some utterly shocking moments and imagery, A Certain Kind Of Death is crude and unbiased in its portrayal of what happens to the deceased who are not claimed by their families, and it leaves the viewer thoughtful and haunted by the shocking and srangely interesting process.
Pablo Gonzalez
½
This is an intruiging look at the post-mordem life of the deceased that are left alone and never claimed. A very brave albeit morbid project that makes me wonder the emotions the crew must have felt. The depths the coroner's office goes to in finding kin and putting the body to rest is surprising. It becomes apparent that in one's life after death, the deceased exists only, and forever on, as paperwork. Not for the weak of heart or faint of stomach but this is a documentary for anyone interested in law enforcement, investigation, forensics or the event of death itself. Reminiscent of The Bridge.
Justin Hall
½
This doc shows you what happens when someone dies with no next of kin. We take the journey with them step by step through all the paperwork and clean up. The film follows three men who have died and we get to see inside their homes and learn personal details about the lives they have lived. This is a graphic movie as we are shown dead bodies and more. Not recommended for the faint hearted. The one thing I think most will learn from this film is that the things we have collected in this life are never our own. We are merely temporary custodians of things that in the end mean nothing.
Jason Spencer
Super Reviewer
A Certain Kind of Death Quotes
There are no approved quotes yet for this movie.